The Deluxe's antenna slots into a wee MCX (Mini Coax) port at the opposite end to the USB connector. Elgato bundles a standard mini antenna with a magnetic base and separate suction cup. It pivots at the base to allow you to maximise reception, as does the separate, telescopic aerial it provides. The latter is handy if you don't want wires spoiling the lines of your laptop and is more travel friendly too. Finally, if you need a feed from a full-size antenna, there's a mcx-to-coax adaptor in the box as well.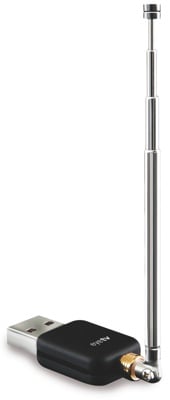 Elgato bundles two types of mini antenna, including a telescopic one
You'll certainly want to use the adaptor if you plan to plug the Deluxe into a desktop machine or media centre near to your TV. We found the reception surprisingly good with a mini antenna - certainly better than it has been with TV tuners we've tried in the past in the same London locations and with the same antenna types.
That said, it's by no means a match for a proper feed - thanks to Freeview's broadcast strength rather than any failing on the tuner's part. Our initial, extensive tune-up in Register Hardware's sixth-floor, central London HQ still missed a number of channels and couldn't get sufficient signal for some of the others.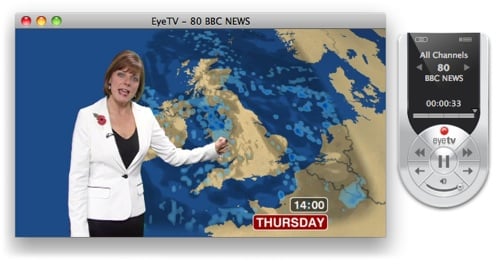 EyeTV 3 playback...
Adjusting the mini antenna helps - you'll appreciate the pivot when you're moving at around in search of a signal - but unless you're in a very good locale, you'll need a proper aerial feed if you want the full selection of channels.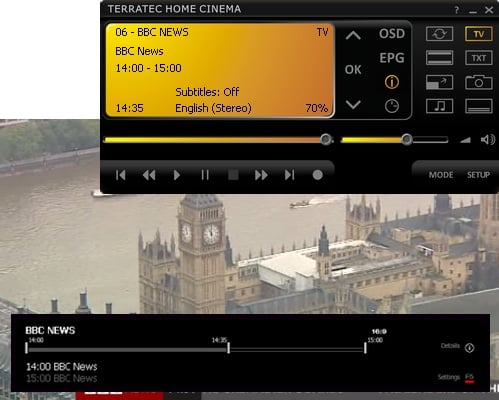 ...and from Terratec Home Cinema
On a Mac, the Deluxe works with Elgato's EyeTV 3 software, which provides full DVR functionality, augmenting the over-the-air programme guide data with a year's free access to the TVTV online EPG. You can create lists of favourite channels; record, pause and rewind live broacasts; schedule recordings, top and tail them then convert them into formats suitable for playback on iPods, iPhones and Apple TVs.
COMMENTS
@AC
iPlayer doesn't (yet) do other channels and gobbles Wi-Fi bandwidth. TV broadcasts don't.
Pointless
Absolutly pointless if you can get a wifi feed and 'tune in' to iPlayer...Ok its smaller than a 3g dongle.
Surely a BT Remote would be the better option? (they needn't bother with a BT reciver or sell as an option) this could then facilitate Multiple Tuners and would eliminate the need for the dongle to be line of sight.. then this would then work for desktops, underdesk towers, slimlines with rear only USB etc..
@DGL
Focus on Linux? Why? A target market with 0.4% penetration and you have to watch television on the command line?
My, that makes sense.
Re: One at a time limitation
The eyeTV is USB based and is chucking more than 1.5Gb per hour () down the wire. That equates to a sustained stream of about 5Mbits per second. Elgato (like all the other USB TV vendors) tell you not to plug the device into an external hub, but only directly into your PC/Laptop, otherwise bandwidth starvation can be an issue. Remember that even the USB ports on your PC/Laptop go through an on-board hub and the available bandwidth will still be shared by all the devices plugged in to the machine.
Perhaps they fear that trying to handle two channels would lead to resource starvation - either processor, or bandwidth to the hard drive when recording. I have a TV card in one PC that can handle two channels, but then it is PCI...
@Dan 55
Well I have to agree, MythTV is almoust as bad as those supplied software packages. I mean who in their right mind would use a MySQL Server for that kind of thing.
The standard solution for DVB is however VDR.