Sony Reader PRS-600 Touch Edition
Real page turner?
Whip out the 105mm-long stylus and you can select blocks of copy, or make notes on the pages you are reading and save them for future reference. You can also make handwritten memos, but the thin black lines created when you write on the screen aren't particularly pleasing to the eye and the drawn line can take a moment or two to catch up with what the stylus is doing so memos of more than a few words are best typed using the virtual keyboard.
It's all a bit tablet computing circa 1992, in that regard.
The virtual keyboard also allows readers to search for words in the book they are reading.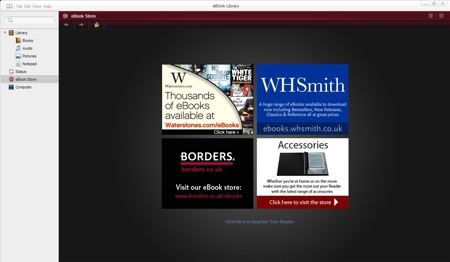 Not quite the same as a stroll down Charing Cross Road
The only real niggle we had with the UI was the with the main library view. To scroll up or down you have to use the rather narrow bar on the right of the screen rather than just swipe up and down in any old place.
Format support is a direct carryover from the 505, so the 600 can handle EPub eBook and BBeB Book – with and without DRM – as well as PDF, Word, plain text and RTF files. If you want some music, the 600 can play DRM-free AAC and MP3 files, though Sony still hasn't seen fit to let users view list of audio files in any way other than alphabetically by song title or artist.
If you want to look at still images in greyscale you can do so, with JPEG, GIF, PNG and BMP files all supported.
Sony has also warmed over its eBook Library application, which allows Windows and now also Mac users to view their e-books, transfer content to the Reader and update the gadget's firmware as necessary. It also provides direct links to Waterstones', WH Smith's and Border's e-book stores and an online shop selling Reader accessories.
Sponsored: Minds Mastering Machines - Call for papers now open