T-Mobile Pulse
The Googlephone for everyone?
The Pulse hasn't veered far away from the standard Android look and feel. With a moody grey-black carbon-fibre look theme running behind the homescreen - matching the phone's back panel - it's neat and tidy.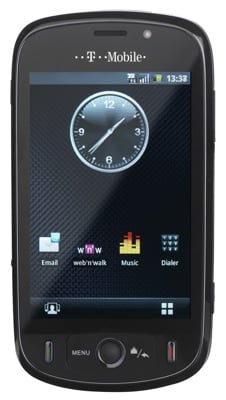 The carbon-fibre theme is used extensively
There's plenty of space to arrange as many shortcut icons, widgets or 'Wildcards' as you like. Wildcards are content widgets, such as a music playlist, video clip, bookmark or calendar entry, presented Cover Flow-fashion which can be placed on any part of the screen. They're all easy to add: you simply press and hold the screen and a pop-up menu lets you add any of these types or particular folders to the homescreen.
It's easy to remove or re-order icons and widgets: they can be dragged and dropped into a pop-up wastebasket. The homescreen's options include a Reset.
Unlocking the screen requires an upward flick of the finger. It locks automatically, though a tap of the power button on the side of the phone will also lock it. A notifications panel can be dragged down, rollerblind fashion, from the bar top of the display, to list messages, email, upcoming calendar entries and so on.
There are two on-screen buttons at the bottom of the homescreen. One opens up a carousel of favourite contacts you can populate. The other key flips open the applications list, a grid of 20 small icons which you can re-order as you like. You can also add shortcuts for any of these to the homescreen simply by pressing and holding them.
Out of the box, the T-Mobile Pulse is well kitted out for messaging: SMS, MMS, email and IMs are all supported. Google Mail and Google Talk are seamlessly integrated into the phone, providing a slick and intuitive user experience. Mail is activated automatically when you set up the phone, and is a mobile optimised version of Google's online service. Your Google Mail contacts can be synced automatically.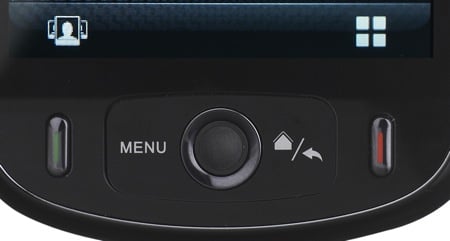 The physical buttons are complemented with two virtual ones
It's simple to add other web-based or POP/IMAP email accounts: just tap in the address and password and account are created automatically. But they're handled by a separate app that's not quite as sophisticated as Google Mail though very usable nonetheless.
Sponsored: Minds Mastering Machines - Call for papers now open