Virgin America dumps servers, flies for the clouds
Open-source payload
Why move so quickly?
"We have to keep our costs down in a way that's is reasonable and does not impact the business negatively. We will not scrimp on stuff that is critical to our infrastructure...[but] servers have become such a commodity now why'd I want to put my money in a mega box unless it's Superdome? We are an airline, and the product is in the plane."
Why move so quickly?
Simhambhatla said Virgin needed to quickly move out of its launch-phase chaos and develop a mature IT operation supporting the business and not become the kind of cliché IT shop that's expensive run or home to a growing group of administrators who fall behind on new projects.
An integral part of all this was the team re-organization. This saw the previous two business systems analysis and the architecture and integration teams that set things up re-organized into software engineering and an operations team - the latter to mange systems.
A project management office was also instituted. This is normally the kind of thing found inside places like major corporations, where IT has become a vast operation of many moving parts, and where the number of business and technology stake holders mushroomed. Project management offices are used to to help tack IT projects and to make sure things are coming in on time and in budget.
The idea at Virgin was to ensure IT has a good intake of projects from the suits and that Simhambhatla and the suits can track projects, articulate plans, and keep things in budget. The chief executive and financial offers also attend IT meetings.
Simhambhatla said this re-organization was crucial. "There was always this controlled chaos," he said of Virgin's early launch days. "It was good chaos - we did a lot of fantastic work - but it took us more energy than it should have."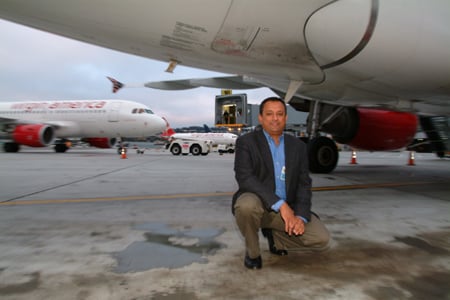 Moving fast: mobile is very important to Virgin and passengers, according to Simhambhatla
According to Simhambhatla, the re-organization has worked because it's letting IT experiment and build while delivering what the suites ask for. In the pipeline are ongoing updates to the Virgin web site - something that's very high on the CEO's mind, Simhambhatla said - while IT has began experimenting with the iPhone Software Development Kit (SDK).
One thing on Simhambhatla's mind is mobile check in - something that happens in Europe but that is difficult in the US as local airports impose different security restrictions. Mobile is somehow seen as risky. Some of Virgin's US competitors do offer check in at some of their destinations, though. "Mobile is very important," Simhambhatla said. "We need to do the same as mobile banking...We want to take it in reasonable steps."
The name "software engineering' that's been applied to one of the teams has also created a "whole new discipline" Simhambhatla said. Referring to the iPhone dabbling he noted: "There's no mandate from the business yet, but we will play with the SDK to look at what iPhone applications make sense for the consumer - alerts and schedules and so on."
Work has also begun on brand new software for the Virgin self-service check-in kiosks that were rolled out to US airports in the last two-and-a-half years. "Today we have very functional kiosks at the airport. We want to add more, like potential up sell opportunities during check in that help us and guests at the airport. Out kiosk check in is very different to what other airlines have, but we want to make our software more modular and extensible for the future," he said.
PC grilling
Other plans include expanding Virgin's existing use of thin-client software particularly in Virgin's pilot training program, so there's no need to buy or manage more PCs - cutting the cost and reducing Virgin's power budget. "My goal would be for every new employee to ask the question: does this person need a laptop - do they need mobile computing are they traveling?"
Behind Simhambhatla's need for speed is the desire to harness Virgin's hardware and software, rather than fall into the trap of becoming prisoners of it. To let the IT team dabble and deliver, not become full-time Oracle DBAs. And to keep Virgin lean, avoiding the slide into the kind of mid-life, middle-age spread that has typified its competitors - companies who've been in bankruptcy restructuring and have removed the frills for their passengers while increasing prices as their costs have crept up and traveler numbers have dropped off.
"The more mature our business becomes...the need for focus and discipline on how we do our work increases," Simhambhatla said. ®
Sponsored: Minds Mastering Machines - Call for papers now open