Tandberg bigs up removable media capacity
Frankfurt gets first peek at DAT 320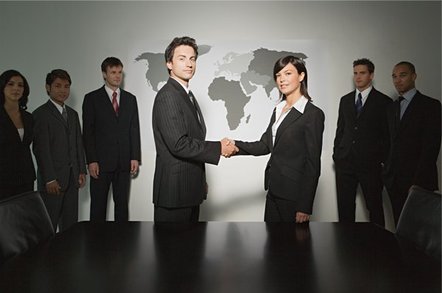 Tandberg Data showed off a 320GB DAT drive at SNW in Frankfurt and has upped its RDX removable drive capacity to 640GB.
This is the first public sighting of a DAT 320 drive, the 7th DAT generation, and drives should write 43GB of raw data an hour to a DAT320 cartridge, that's 11.9MB/sec. Storage Newsletter reports that it's a Sony-manufactured drive, although Sony won't sell it.
It's known that Quantum, which sold DAT160 products, is getting out of the low-end tape market - part of its shift to higher-margin products - and so won't sell DAT 320. IBM may - it's not been publicly decided yet.
The 320GB capacity point assumes 2:1 compression and all nominal DAT formats store half the amount of raw data; DAT160 storing 80GB of raw data, for example.
The jump from 80GB to 160GB of DAT capacity came with a tape ribbon width increase from 4 to 8mm. This latest capacity increase to 320GB came from the use of Sony's Advanced Metal Evaporated (AME) technology, used on its now-dropped AIT tape technology. A DAT640 format is in development but after that, who knows? It probably depends on what happens to disk-based backup.
As with enterprise data protection, where the LTO tape format and hard drive-based storage are the two dominating media types, the small and medium enterprise (SME) market is consolidating onto DATA tape and disk-based media, but removable hard drive cartridges feature in it. These offer offsite capability, like tape, and ProStor's RDX QuikStor format leads this part of the backup market.
The new 640GB RDX QuikStor drive contains a 2-5-inch disk, like the other versions, whose capacity points are 80GB, 160GB, 320GB, and 500GB. These are raw capacity levels, and the drives have a 45MB/sec transfer rate, fit in any RDX dock, and have a claimed life of ten years. Tandberg is a licensed manufacturer of the drives and has shipped more than 150,000 of them, with getting on for half a million cartridges worldwide. Imation is the other licensed manufacturer.
We can expect all OEMs supplied by Tandberg and Imation, which include HP and IBM, to ship the 640GB product shortly. ®
Tandberg's DAT320 drive will be available this month with a recommended price of $899; the tape media is $40. The 640GB RDX QuikStor cartridge will be available mid-month through Tandberg Data's distributor and reseller channel, with a manufacturer suggested retail price of $450. ®
Sponsored: Minds Mastering Machines - Call for papers now open