Belkin Powerline HD Gigabit mains Ethernet adaptor
High-speed networking through a three-pin plug?
Under Mac OS X, we timed the file transfer of the file for a more real-world reading. The file took 1m 53s to copy - 102.22Mb/s. Mac OS X 10.5's Activity Monitor showed a peak speed of 13.94MB/s, or 111.52Mb/s.
With the Devolo, the file took 4m 8s to transfer, or 48.39Mb/s. The Belkin was at least twice as fast as the HomePlug AV box. Our wiring is almost 30 years old, and we'd expect to see higher numbers in newer housing than our 1980s house-to-flats conversion.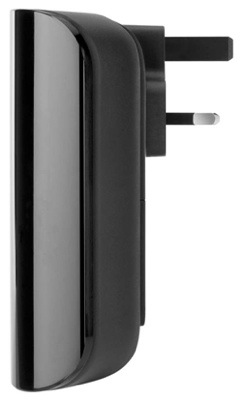 The power pins aren't suited to close-to-the-floor mains sockets
Right after we finished testing, Belkin UK posted a firmware update for the adaptors. They shipped with version 2303 but the update takes the firmware to version 2314. We still had the adaptors, so we repeated the test with the new firmware.
We got 94.14Mb/s for the file transfer, peaking at 102.4Mb/s. Belkin told us: "The... firmware has been designed to improve transmission stability over longer distances and in noisy environments but as a result has reduced the very top-end performance ever so slightly as a trade off."
On the upside, it also meant we got better performance when the Belkins were plugged into distribution boards.
Belkin prices up Powerline HD at £130 a pair, but we've seen them for as little as £100. That's still a £25 mark-up on, say, the £75 you'd pay for a pair of Devolo 200Mb/s adaptors. That seems a small price to pay for a doubling of bandwidth.
Verdict
How should we rate the Belkin Powerline HD? Slap it down hard because it doesn't get anywhere near the 1Gb/s headline data-transfer speed? No networking product does. With an Ethernet cable linking laptop straight to router we only get 216Mb/s - so why penalise this one? From a Gigabit Ethernet perspective, Belkin's offering may be disappointing. But it's also at least twice as fast as some of the best 200Mb/s powerline adaptors, and well ahead of Wi-Fi. ®
More Networking Reviews...

Vodafone
Access
Gateway

D-Link
DHP-303

Solwise
Piggy 6

D-Link
Xtreme N
DIR-685
Sponsored: Minds Mastering Machines - Call for papers now open

Belkin Powerline HD Gigabit mains Ethernet adaptor
Ignore the headline speed an enjoy double the speed of any HomePlug or UPA powerline adaptor.
Price:
£130 (pack of two adaptors) RRP