Belkin Powerline HD Gigabit mains Ethernet adaptor
High-speed networking through a three-pin plug?
Belkin supplies the Gigabit Powerline HD in pairs, and we used the two of them to bridge an upstairs router-cum-Nas-box and a laptop downstairs. Both laptop and router have Gigabit Ethernet ports. Afterwards, we swapped the Belkin boxes for the pair of Devolo dLAN 200Mb/s adaptors that we use to link the router to a media player we have connected to our TV.
Now, the Devolos both usually sit on distribution boards, one to split the power from a single mains socket so we can drive said media player and a Freeview DVR. The upstairs distribution board has the router and the cable modem dangling off it as well as the powerline adaptor.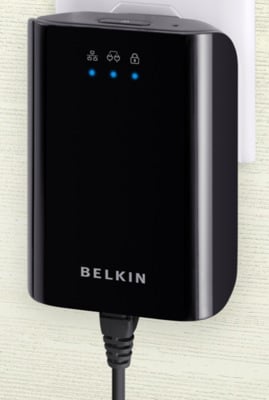 Make sure you leave room for the Ethernet cable
HomePlug supporters used to say that it's best not to do this, but with the AV standard it generally doesn't matter. Indeed, with the Devolo boxes we get effectively the same speed however we connect the adaptors to the mains.
Each Belkin adaptor has a powerline link LED that glows blue when you have a good mains connection, purple when it's so-so and red when the link is poor. When we swapped Devolo for Belkin, all we got were red lights, and we found performance was down to HomePlug AV level. If anything, the connection was slower than the one we got with the Devolos.
We tried a number of mains sockets downstairs and this time got purple lights, but saw no appreciable increase in data transfer speed. For our testing, we timed copying the same 1.41GB file from the router's integrated Sata hard drive to the laptop. We took the adaptor upstairs and finally got a blue powerline light, but again not real improvement in throughput.
Belkin warns against connecting the Powerline HDs to distribution boards, but, as we say, we've never had cause to take this seriously. Until now. Gigle's Gigabit channel is far less resilient in this respect than slower HomePlug and UPA boxes. We pulled the router-connected adaptor from the board and plugged it into a wall socket instead. Immediately, we saw a clear increase in performance.