Belkin Powerline HD Gigabit mains Ethernet adaptor
High-speed networking through a three-pin plug?
The adaptor uses chip company Gigle's Mediaxtream chippery, which, while equipped with HomePlug AV for compatibility, also runs its own faster channel over the mains. "Mediaxtream... delivers raw throughput data rates of up to 882Mb/s at the PHY," says Gigle. Ethernet will knock the actual data speed somewhat below that peak, with real world speeds further eroded by factors such as wiring quality and noise on the line.
To get the maximum speed, you'll need a Belkin adaptor at either end of the link. Each Gigabit Powerline HD unit measures 84mm side to side - it's 50mm deep and 116mm top to bottom - so you may well want to double-check the sockets you propose to stick the adaptors into to ensure there's room for them. The adaptors are large enough to potentially intrude on adjacent power sockets.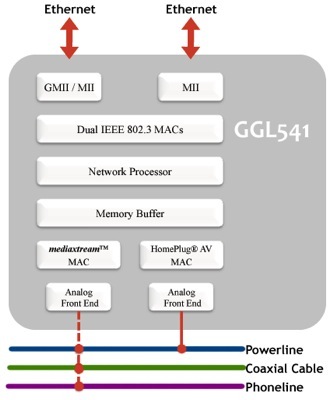 More than powerline: inside Gigle's Mediaxtream chippery
The power pins are at the top of the back panel, so it's not just a question of whether there's sufficient space either side of the socket, but that the adaptor isn't going to run up against a floor, desk or other surface placed below them. The Ethernet port is on the base on the unit, so you'll need to allow a further 30-40mm beyond the height of the device.
You can, of course, use a distribution board to get round this spacing problem but, as we'll see, that may not be such a good idea.
Like almost all of today's HomePlug offerings, Belkin's incorporates push-button encryption key sharing across the network. Plug two or more adaptors in, press the button on one for a second or so until the LED with a padlock icon blinks then go and press the buttons on the remaining adaptors. They'll all share a 128-bit key and encrypt all the data the flows between then from that moment on. Adaptors not involved in this process won't get the key and won't be able to decode the data.
There's no software supplied with the adaptors to allow you to set the key manually, which you might want to do if you have an existing HomePlug AV network that you want the new adaptors to talk to, though not at the speed of the new units, of course.