Climate Fools Day rallies the heretics
Stop them, before they Deny again!
A short-term fix was coal - "the only potential solution to avoid Brownouts after 2015", he said. He also recommended expanding nuclear capacity. Long term, Hutchinson predicted that liquid hydrocarbons from coal would secure our energy future, as long as we could trade with the suppliers.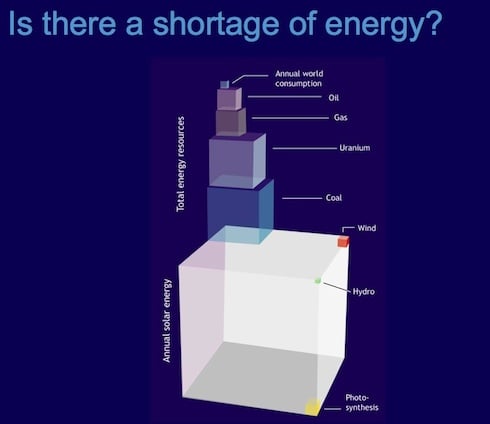 "I profoundly dissent from the Green view that technology is bad for you, we should learn to live with the environment, and just sit around and wait for the next extinction event," he said. "It's just a silly idea. We've progressed by not doing that."
"We've progressed by amending the environment to make us more comfortable. Most of Southern England was a swamp 2000 years ago," he pointed out - and man had drained it. "I much prefer Southern England now than some dank, woody, dreary swamp."
Via a weblink, Joe D'Aleo summarized many of the sceptics arguments succinctly - although technical difficulties left him inaudible at times. The strongest of these is the point made by MIT's Richard Lindzen, arguably the most senior climate scientist in the world. Lindzen doesn't dispute the energy budget model, and doesn't dispute the properties of CO2. But he says that the feedbacks required for "runaway" warming are theoretical, and without feedbacks the warming is around half a degree Centigrade. The implication is that we've seen all the warming we'll ever see from CO2.
Ulster MP Sammy Wilson gave a brief twelve minute cameo explaining his doubts about the orthodoxy. He told of his pride in being named in George Monbiot's list of "Top Ten Climate Deniers".
Enter Harrabin
I'd mentioned the presence of the BBC earlier - which included the BBC's eco-activist (officially "environmental analyst") Roger Harrabin. He had founded the Cambridge Media and Environment Programme (CMEP), which gives seminars to BBC reporters on how to report environmental issues - which led to the unprecedented (in peacetime) decision to drop objectivity in reporting of climate change. A man with a mission.
True to form, Harrabin asked a question dripping with contempt - "I understand your reluctance to blame humans," he began, adding an appeal to authority - that lots of people disagreed with the sceptics. He asked: "Is the panel utterly relaxed about ocean acidification as it is over Global Warming?" Gill replied that coral forms during warmer periods - so yes, he was quite relaxed.
Harrabin actually got a warm round of applause just for turning up - attendees were far kinder to the BBC man than he was to them. Later that afternoon, Radio 4 broadcast Harrabin's summary of proceedings.
He priority seemed to be to soothe an anxious nation.
"The debate moved on [our emphasis] a couple of years ago," but "some people were left outside that consensus and they're here today," he began.
Corbyn said the IPCC had looked at the scientific evidence with "their eyes closed" - ignoring or downplaying anything that contradicted greenhouse gas as the primary factor.
"That's quite an accusation - they're reputable," countered Harrabin, again making an appeal to authority. He introduced a climate modeller - Joanna Haigh - who seemed to make Corbyn's point for him - admitting they hadn't taken account of solar particles or electro magnetic influences, because they didn't think they'd be significant.
Harrabin ended with yet another appeal to authority:
"It's clear there is a lot of uncertainty about the future climate, but the world's politicians who'll be meeting soon in Copenhagen have decided that continuing with the planetary experiment of increasing CO2 [our emphasis] to see how the world responds is probably not a prudent course."
Satisfied that he'd extinguished all unsafe thoughts, Middle England was prepared for the next Met Office weather forecast. ®
Sponsored: Minds Mastering Machines - Call for papers now open