Climate Fools Day rallies the heretics
Stop them, before they Deny again!
Peter Gill of the Energy Institute (speaking for himself, he stressed) said that the CO2 record has its own 'Hockey Stick' - a reference to the forgery of the earth's temperature record by academics keen to change public policy in a specific direction. He claimed that G S Callendar, the father of global warming, only used one per cent of the data in estimating pre-industrial CO2 levels, producing a figure of 270ppm. More recently, a German called E G Beck had used more data, and came up with 335ppm for the same period. This is highly contentious.
Gill said that for most of the earth's history, CO2 had been higher - only in the Late Carboniferous to Early Cambrian periods was the CO2 level as low as it is now.
The strongest proposition to undermine the hypothesis is that CO2 has a far shorter lifetime in the atmosphere than the behaviour change lobby presume. Gill said most studies prior to 1983 had suggested it was between four and fourteen years. The IPCC "consensus view" is that it's over a hundred years. (You may recall Freeman Dyson here suggested it's twelve years.) I'm guessing Gill borrowed from this paper by Tom Segalstad.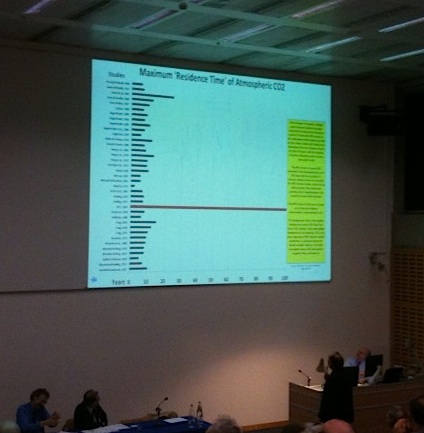 CO2's atmospheric lifespan: one of these estimates is not like the others
He had an interesting calculation I hadn't heard before. The human contribution to CO2 is 26 gigatons a year. It's peaked in the past, however. Assuming all that was anthropogenic, between 1820 and 1855 the peak was 44gt a year and between 1942 and 1953 78 gigatons a year. Where did it go, he asked? If the lifespan was anything like the "consensus" supposes, this would still be hanging around. He concluded that "the variability of emission and absorption by natural processes exceeds current anthropogenic emissions."
So far nobody had challenged the absorption properties of CO2 which go unchallenged in the laboratory. Then a retired analytic chemist called Hans Schreuder did just that. "Infrared sensitive gases release and do not trap infrared energy" he said. "CO2 can't cause warming."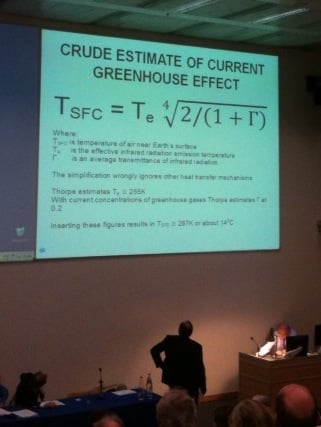 Peter Gill
Professor Philip Hutchinson of Cranfield University, who followed, took a swipe at both Peak Oil ("another handy scare story") and global warming. I've pinched a couple of his slides from another of his presentations. One illustrates the potential energy available to us if we can exploit it.
He warned of the dangers of energy security. For the UK, with its nuclear capacity declining, policy was now a case of "Faith, Hope and Charity."
"Faith in renewables, Hope that the Middle East remains stable and Russian doesn't turn off the Gas Tap, and Charity from other countries that have been more prudent, such as France".
It's hard to express British energy policy more succinctly.So what did he recommend?
Sponsored: Minds Mastering Machines - Call for papers now open