Brit robo-sub dives to 3.5 miles on seabed volcano quest
Battery bottom-probe does 20000 leagues under the sea
British oceanography boffins are celebrating successful trials of their latest robot submarine, which has now autonomously navigated itself about at a depth of three-and-a-half miles beneath the surface of the Atlantic.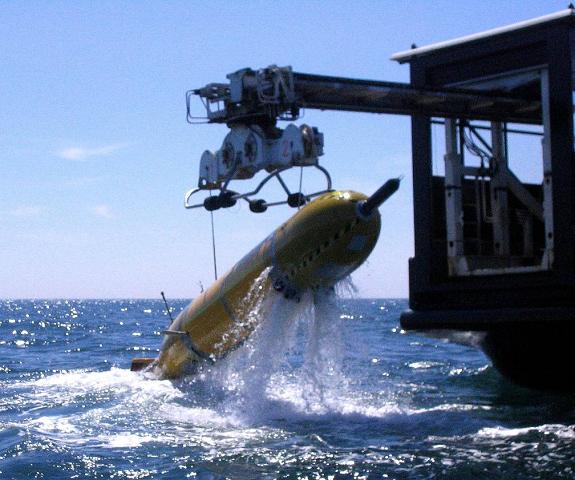 The British battery-powered bottom probe at work.
The Reg has reported before on earlier iterations of the National Oceanography Centre's "Autosub" underwater droids, which have previous carried out lengthy missions beneath Antarctic ice shelves running on enormous numbers of ordinary D-cell batteries. The latest Autosub 6000, however, has moved on to lithium polymer rechargeable batteries.
"Apart from the correct functioning of the vehicle during the trials at extreme depths, what particularly pleased me was that we have now developed the control and obstacle avoidance systems such that we have the confidence to send the AUV into a hostile and rugged terrain," says Steve McPhail, robosub chief at the NOC.
"This will lead to more challenging and interesting scientific campaigns in the future."
A true robot rather than an ersatz remotely-piloted job, Autosub is completely independent during a mission. Rated for 6,000 metres maximum depth, the yellow machine has now been proven down to 5,600: "very few (if any)" robosubs have been so deep, according to McPhail.
The test dives saw the Autosub 6000 launched from Royal Research Ship (RRS) Discovery to prowl above the Iberian Abyssal Plain and the Casablanca Seamount, lying between the Moroccan coast and the island of Madeira. It's rated for a cruising range of up to 1,000 km; not quite 20,000 leagues under the sea, but within a couple of orders of magnitude.
The Autosub's cunning auto-nav tech and sonars allow it to "terrain follow" above the seabed like a low-flying aircraft following land contours. Apparently the yellow droid probe can fly as close as three metres to the seabed without pranging itself, taking colour photographic survey footage or other readings all the while.
Now that the machine is fully proven, the NOC boffins intend to send it out aboard RRS James Cook to the Caribbean next year, in order to search for underwater volcanoes. ®
Sponsored: Minds Mastering Machines - Call for papers now open