Apple iPhone closing in on BlackBerry market share
Pre reversing Palm's fortunes?
Apple is rapidly narrowing the gap between sales of the iPhone and BlackBerry handsets, a US market watcher has claimed.
Research company ChangeWave yesterday posted figures showing the number of US consumers who own smartphones and which brands they favour.
The stats, taken mid way through September 2009, put Research in Motion's platform in the hands of 40 per cent of smartphone consumers. Some 30 per cent of them own an iPhone, while just seven per cent had a Palm device. The remainder own a Nokia, a Windows Mobile handset or some other make of smartphone.
More interesting are the trends being shown by ChangeWave's quarterly figures for the past three years. From April 2007 to January 2008, RIM's share of the segment rose from 33 per cent to 43 per cent, part of a general upward trajectory from Jun 2006. But from March 2008, RIM's share has been steadily declining, remaining static quarter on quarter, or dropping a percentage point.
In short, RIM's rise has been halted, in the the consumer market at least.
US Consumer Smartphone Ownership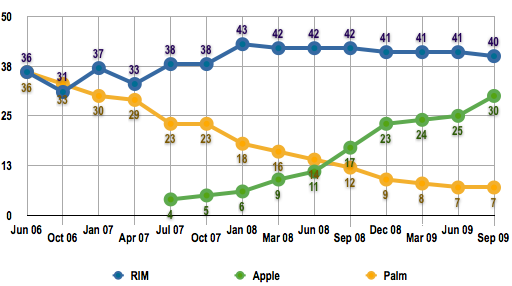 Company market share by percentage
Data Source: ChangeWave
Contrast that will the iPhone numbers, which rise from four per cent in July 2007 to 30 per cent in September 2009. Growth slowed between December 2008 and June 2009 to a stead single percentage point rise, but that's no great surprise given the economic climate and the slowdown in demand ahead of the introduction of the iPhone 3GS.
Palm, the only other key consumer smartphone player in the US, has seen is market share slide since June 2006, when it had 36 per cent of the market - RIM had 30 per cent. It fell behind RIM in the quarter to mid-January 2007, then below Apple's share in the quarter to mid-September 2008.
Palm's September 2009 figure is seven per cent, but the curve's decline has eased off over the past few quarters, suggesting the Pre is slowing and possibly even stopping the company's market share plunge. The arrival of the Pixi may even see its share rising again, but for now it's too soon to say. ®
Sponsored: Minds Mastering Machines - Call for papers now open