TwitterPeek - the handset that spews Web2.0rhea...
...and nothing else
Are you into Twitter? Are you insanely, over-the-top, Tweeting-at-your-mother's-funeral into Twitter? Well, now there's a device made just for your crippling character flaw, you lucky duck.
Peek, the folks who make always-on handsets just for email, bring you TwitterPeek: a $200 mobile that does nothing but send, receive, and search Twitter.
A Peek spokeswoman told El Reg that although the product is currently listed on Amazon.com, it hasn't "launched launched" yet. so she couldn't go into further details other than confirm the listing and say the product would be released sometime next week.
Fortunately, the details on the Amazon page are rather bountiful. The device will provide a lifetime of unlimited service with nationwide wireless coverage in the US with no contracts, the listing indicates.
The device is 2.7x 0.4 x 4 inches and sports a full QWERTY keyboard, a large color screen,a click scroll wheel, and battery life that lasts up to 4 days. It also comes in stately charcoal or a Tweet-esque Aqua.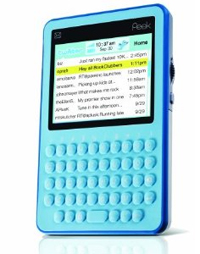 Once again, the device does nothing but Twitter — unlike other handsets that merely love the micro-blogging platform an extra amount. But oh, what a magical ride just Tweeting could be:
"Peek keeps you connected with instant tweet deliver, so you're always the first to receive timely, fun, useful and provocative information direct from the source," the listing states. "You might follow the New York Times for breaking news. Lance Armstrong might invite you along on a bike ride through Hamburg. Oprah might let you in on the latest book she's reading. Or, better yet, you might discover the coffee shop around the corner is offering free scones until 11 am for all tweeter."
Yes. Maybe. ®
Sponsored: Learn how to transform your data into a strategic asset for your business by using the cloud to accelerate innovation with NetApp