Toshiba touts 15Mp image sensor
Coming to cameraphones next year
While most people are still getting to grips with 12Mp cameraphones, Toshiba has announced it will produce a 15Mp CMOS sensor for cameras and handsets next year.
The sensor – which technically delivers 14.6Mp – measures 1/2.3in and is based on "backside illumination technology" (BSI).
Titter ye not.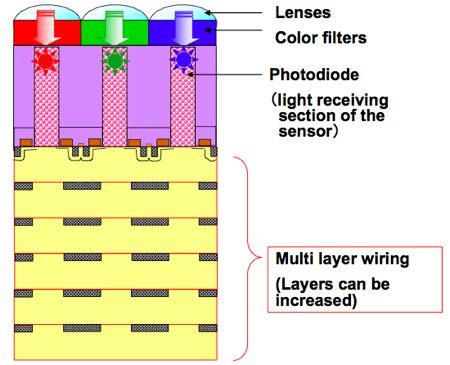 Backside illumination: makes for a more sensitive sensor
Toshiba explained that BSI technology (above) moves the sensor's light-detecting photodiodes right up against the lenses and light filters. That puts them ahead of the transistor and associated wiring which amplify the signal from the photodiode.
Older CMOS sensor designs (below) placed the photodiode behind the wiring, which scattered some the of the incident light, in turn reducing the amount entering the photodiode and thus the sensor's overall light sensitivity.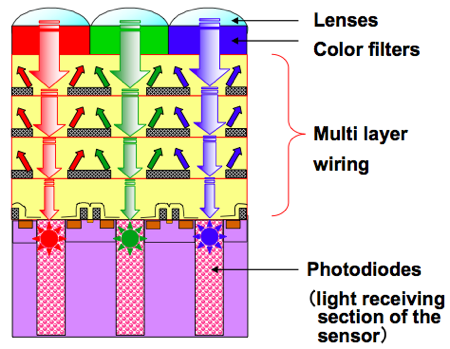 Frontside illumination: the wiring gets in the way
Toshiba said BSI increases light sensitivity and absorption at the photodiode by 40 per cent. The technology also makes for finer image pixels, Toshiba added.
Samples of the 15Mp CMOS sensor will start rolling off Toshiba's 300mm-wafer production lines in December, but mass production isn't expected to commence until Q3 2010. ®
COMMENTS
What a superb idea
BUT, will it bath the baby?
aye?
wow, all that work in miniature photodiode and illumination, just to produce an even larger blurry picture? You cannot adequately improve the image quality without focus on the LENS. THE LENS IS THE MOST IMPORTANT PART TOSHIBA, Do you know something about optics futures that we dont? hmmm.. may be time to invest in a few miniature lens manufacturers in case..
Useless
The resolving power of the camera phones tiny lenses just make these a gimmick. You cant resolve it your just making a higher resolution image of the same quality...
But you can only get the resolving power from wider lenses, which are impracticable in a phone... so stop wasting time and focus on light sensitivity and speed (higher ISO please not megapixels)
'Backside' illumination?
Why must scientists always stand on ceremony? What's wrong with 'arse'?