Quantum has reasons to be cheerful
Rick Belluzzo upbeat after profit growth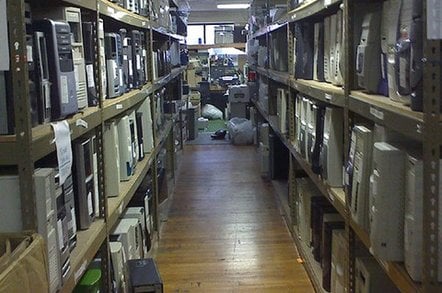 Quantum sold $175m of products and services in its second fiscal 2010 quarter, 19 per cent less than a year ago. But CEO Rick Belluzzo is cheerful: his firm made $11m profit, its best performance in five years.
The Q2 revenue figure represented a sequential increase of $14.6 million, Quantum's first such increase in seven quarters. Net income a year ago was a loss of $3m, so it's quite a turnaround.
Revenues declined for the reasons we've come to expect from Quantum: rising high-margin product sales not compensating for falls in low-margin product sales, and declining royalties. There were declines in both OEM tape automation sales, and OEM devices and media revenue, but Quantum pulled off the trick of wringing a profit out of declining revenues.
Expenses have been firmly reined in: R&D was $16.9m, down from $18.7m; sales and marketing expense was $27.8m compared to $38.1m a year ago; and general admin costs were $15.2m, more than $4.5m down on the year-ago quarter's $19.8m. Gross margin rose to 43.8 percent, nicely up on the year-ago quarter's 38.5 percent.
Asked on the earnings call if he could drive even margin higher, Jon Gacek, Quantum's CFO and COO, said: "Man, you are greedy."
The recession appears to be easing, with Belluzzo saying: "There was a mentionable improvement in the storage purchase environment during the quarter with a significant recovery in EMEA... the IT purchasing environment demonstrated clear recovery."
Product sales showed an emphatic rise in disk-based revenues. Hardware and software sales were $20.8m a year ago. In the latest quarter they were $28m, 36 per cent higher, much of it due to the DXi deduplication products. Quantum closed several million dollar-plus DXi deals in the quarter as it bounced back from EMC's purchase of arch-competitor Data Domain.
So far, DXi growth has been in its VTL mode to enterprises, the focus of the EMC OEM deal. But sales of the DXi6500 NAS presentation models are now expected to rise as Quantum focusses away from EMC as its main DXi channel. Belluzzo said: "We know that EMC sales incorporating our deduplication software will diminish... we are pursuing a new agenda based on the reality of the changed dynamics with EMC and the expectation that there will be minimal ongoing opportunity with them related to deduplication in fiscal 2011." Backup via NAS is the new DXi frontier.
Another focus is looking for DXi OEM opportunities with large storage companies.
The DXi roadmap includes extending and improving its software to take advantage of the SSD storage and Nehalem processors in the DXi6500. It must be a strong likelihood that Quantum is working on a NAS presentation version of the DXi7500 and adding Nehalem and SSD to it. Such a box would be much more powerful than the 7500 and we might speculate about, say, a DXi8500 coming along in 2010, not that Quantum will say anything at all about that possibility.
However, Quantum knows very well that Data Domain has yet to introduce Nehalem-powered machines and has a global deduplication ability in development. It will have to respond.
Sales of StorNext, Quantum's cluster filesystem and HSM software, also rose modestly. The StorNext roadmap is feature-rich and DXi storage software is actually based around StorNext, according to Mark Galpin, Quantum's international product manager. There are 50,000 end-user licenses for the product and one of them is CERN, which is using it in the LHC project. We're probably going to hear more about this product. Perhaps Quantum is going to make its presence felt in the archiving market more strongly and StorNext could play a role in cloud computing.
A new entry-level tape library is coming, which will only be sold by Quantum and its partners with no OEM channel. The company is looking to take tape product market share from what Belluzzo called 'weaker suppliers'.
It's been a long, slow and dark grind for Quantum, but the results of years of effort are now showing through and the firm has definite reasons to be cheerful. ®
Sponsored: Minds Mastering Machines - Call for papers now open