Hands on with Acer's 3D laptop
Polarising specs at the ready...
However, a '3D adjustment bar' inside TriDef enables to tweak the depth of the displayed 3D content.
With such an apparently simple 3D system, why hasn't DDD signed deals with Sony, LG, Panasonic, et al to create other 3D laptops?

Acer ships the 3D laptop with polarising specs, but clip-on filters are also available
Yewdall claimed that DDD is "in talks with several of them for 3D laptops", adding that the first 3D laptop that hasn't got Acer branding will probably arrive in early 2010.
Acer's 3D laptop will undoubtedly be cheaper than, say, a 50in 3D TV. But for those times when you need a slightly larger viewing area, the machine's HDMI port enables 3D images to be displayed on an ordinary HD TV.
But in order to make this happen users must first select TriDef's 'anaglyph output mode', which Yewdall claimed "doesn't hold a candle" to the normal polarised 3D that the combined Acer display and TriDef software usually offer.
It's worth noting that Acer's laptop will work with 3D-ready TVs, and Yewdall stressed that TriDef's output resolution can be bumped up from 1366 x 768 to 1930 x 1080 in such cases.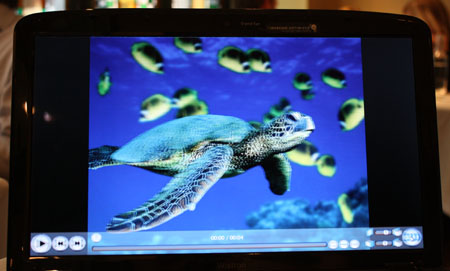 TriDef allows you to adjust the 3D depth
To capitalise on the increasing popularity surrounding 3D films and hardware, DDD has also developed a dedicated online portal – Yabazam – where 3D PC customers can download specially made 3D content, including Imax movies and blockbusters.
The Acer Aspire 5738DZG 3D laptop is on sale now for around £600 ($982/€662). ®