Upminster top for tupping on UK bonkmap
New online tool maps sexual state of nation, provides proud IT angle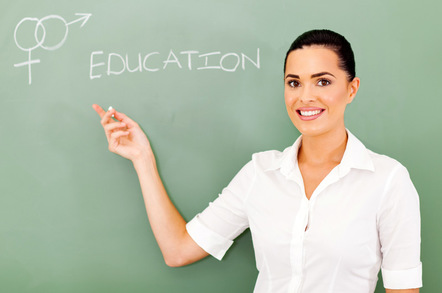 The most sexually obsessed town in the UK is officially Upminster, according to an important new interactive mapping survey.
If you prefer to participate in quieter, less salacious weekend and after-hours activities, the wilds of Scotland, rural Gloucestershire and Oxfordshire might better suit your temperament.
Upminster was recently fingered for this unique honour as a result of research put together by lovehoney.co.uk, the web-based seller of sex-related paraphernalia. Lovehoney has taken half a million of its most recent transactions, categorised them by type (eg "Erotic books", "Fetish Clothing", "Vibrators") and made them available to the general public by means of an online interactive mapping tool.
To see how "sexy" your neighbourhood is, just insert postcode or town name into the search box, and the software returns a wealth of erotic trivia, including how your locality fares in the UK sex stakes, what your friends and neighbours are buying, and how this compares to other parts of the UK.
Those who have been investing heavily in lovehoney's product will be relieved to note that the zoom facility only goes so far as Google Maps level 9, where 1 pixel on screen represents 300 metres on the ground.
A drill-down function enables users to home in not merely on the type of product being bought, but also to identify the most popular purchases in each category. Of Upminster, a highly excitable text generator writes: "People in Upminster spend 9.5 times the national average on their sex lives overall. Cripes!
"They spend 17 times the national average on Adult DVDs (terrific!) and 14 times the national average on Sex Toys for Couples (sexmongous!)."
This result is all the more puzzling, as towns adjacent to Upminster, such as Barking, Dagenham and Romford all spend at or slightly below the national average on their sex lives.
Other places that feature consistently toward the top of this list include Durham, Bangor (County Down) and Reading. There are some significant variations in take-up of category by area: Newtownians top the table for sexy footwear, while Bangor comes first in the "Better Sex for Him". They also came top for "anal sex toys" – but have since fallen behind Durham.
However, the overall skew towards Upminster means that in most categories, the citizens of that borough are a long way ahead of anyone else.
Responding to this er, sexmongous result, a source within Havering Borough Council said: "According to our surveys, Upminster residents are the most satisfied in the Borough and they also live longer." They added: "I'll leave you to draw your own conclusions."
Further insight into the state of heterosexual relationships in the UK today comes from the Better Sex for Him/Better Sex for Her categories. Best buy for improving women's sex lives would appear to be Durex Play Female Orgasm Gel: the best buy for improving men's sex lives is China Brush Delay Solution, otherwise described as "an amazingly potent premature ejaculation remedy".
According to Lovehoney, the UK average national sex spend is around £6.57 per adult. Or, if you live in Upminster, £62.40 per year for each and every adult inhabitant of the area. ®
Sponsored: Minds Mastering Machines - Call for papers now open