Sony Walkman NWZ-S544
PMP with speakers, anyone?
So, how do they perform? Well, that depends on what you are using them for. To start with they are not exactly what you would call loud. If we had to take a wild guess, we'd say they are chucking out between half a watt and a watt apiece, which is enough for use in a quiet room, but not much else.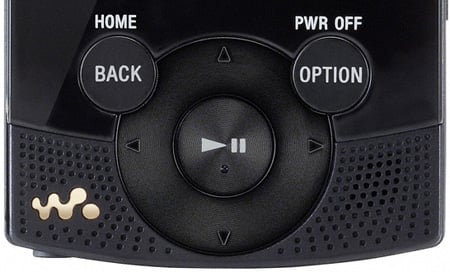 Sound choice for video viewing, but the speakers are wide of the mark for music playback
That said they are certainly up to the job of handling the soundtracks of BBC iPlayer video downloads. During tests, we watched a full episode of Jonathan Meade's Off Kilter on the S544. With the volume turned up to maximum and the player propped up on its plastic stand, the S544's speakers did a more than decent job. The sound was clear and crisp, if just a little sibilant. The video was sharp and colourful too.
Use the speakers for music and things take a bit of a tumble, though not by the degree we feared. Yes, the sound is tinny and devoid of anything you could seriously call bass, but it's not inherently unpleasant to listen too. That's not to say that we can think of many situations in which you would want to use the speakers to listen to music, because we can't. In fact the only two that come to mind are when using the S544 as an alarm clock or when listening to the radio.
Of course, to use the radio you will have to have the earphones plugged in so they can act as an antenna. Unlike most MP3 players, the radio does actually fire up without the earphones plugged in but we couldn't get it to lock onto a single station, no matter where we tried. Incidentally, the radio isn't RDS but does give you the option to select up to 30 presets.
Ignore the speakers and the new S-class players are technically and sonically very nearly identical to the E-class. This means you get the usual Sony format support of MP3, DRM-free AAC and WMA audio, along with WMV and H.264 video plus JPEG images. The FM radio can be recorded at 96, 128 or 160Kb/s MP3, there's a voice recorder too and the ability to synchronize playlists from MTP media players or set them up on-board.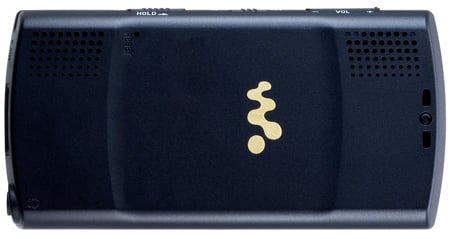 Rear speakers don't offer enough extra to deliver a significant volume output
Like all Sony players the S-Class will hook up to any and all operating systems as either an MTP or MSC class device, while Windows users can use the handy Content Transfer Tool to load music directly from the iTunes desktop. The bundled headphones are the same MDR-E804Y type that Sony supplies with its E-class players. We didn't think much of them when we looked at the E class and time has not made us think any more highly of them. Sony can - and usually does – do better.
Sponsored: Minds Mastering Machines - Call for papers now open