Land Warrior war-smartphone tech support goes to Afghanistan
General Dynamics opens Genius Bar in Spin Boldak
The Land Warrior wearable military smartphone rig - one of the few of its type to have seen combat service in large numbers - continues to rise from its ashes, having been officially cancelled in 2007. However, the kit is now in service in Afghanistan, and makers General Dynamics have just announced a $50m tech-support deal from the US Army.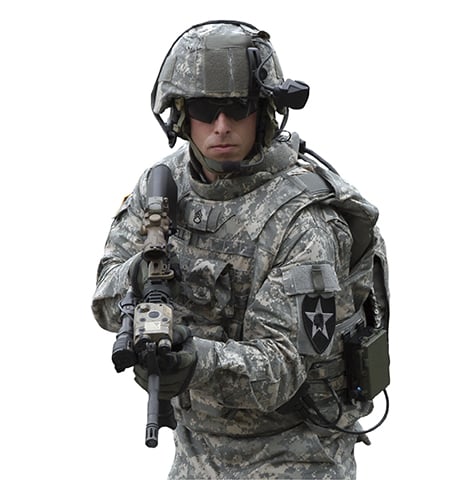 The face of the text-message generation.
Originally, Land Warrior was to be issued to every dismounted footsoldier. It also included an unpopular on-rifle telescopic camera unit, intended to let troops shoot round corners and relay pics or video to each other. Worst of all, it weighed more than 15 pounds. Bad reviews from the first unit to get it, the 4th battalion of the 9th US Infantry ("the Manchus") led generals to scrap the project.
But then the Manchus were scrambled to Iraq as part of the US troop "surge", and Land Warrior went with them for a long and bloody combat tour. Five per cent of the Manchus died and Land Warrior was stripped down to 7 lb, losing the widely disliked gun-camera and other fripperies. Nowadays it consists of its ARM-based computer, GPS satnav, radio networking, flip-down monocle display and a combined mouse/keypad unit worn on combat webbing. These days it is worn only by team leaders.
Today the new leaner and meaner Land Warrior is back in action with the 5th Stryker Brigade Combat Team at Spin Boldak, Afghanistan. The 5th SBCT, along with large numbers of US Marines, has been ordered into the war-torn south to fight alongside British troops who have been there in strength since 2005. They specifically asked for Land Warrior following positive commentary from the Manchus.
Positive features apparently include the ability to get text messages through even when the radio net is struggling to handle voice comms, and the way in which all units can see each other on the Land Warrior map - and also icons or markers injected by unit leaders.
Yesterday's announcement from General Dynamics C4 Systems said that the Army has now awarded the firm an initial one-year $19m contract for Land Warrior tech support, which could go as high as $50m if all options are exercised. Company service engineers will apparently deploy into theatre with "all Land Warrior equipped units". ®
Sponsored: Minds Mastering Machines - Call for papers now open