Syncing the BL40 with your computer should be a breeze but, while LG's latest PC Suite IV looks pretty and has lots of options, boy is it a pain to use. It's optimised for syncing files from a dedicated LG folder, so while you can drag and drop files onto the interface, transferring from phone to PC means they'll go into LG's PC Suite folder first, which isn't necessarily where you want them.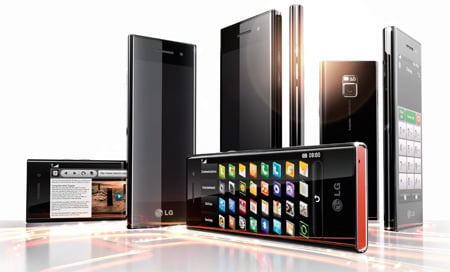 Stylish hardware, daft software
Also, there's a separate setting for music transfer, so to transfer pics or videos or to sync your contacts and messages you select 'PC Suite', but to transfer music files, you need to disconnect the phone, then reconnect and select 'Music sync'. Madness, and we can only hope it will be more user-friendly by Suite V.
Despite the phone's size, the battery is a bit of a titchy affair, with power to match. We barely got a full day's use out of it, though there's an option to reduce screen brightness to save power.
Verdict
As a style phone, LG's New Chocolate BL40 looks the part and it's encouraging to see that it's also a step or two removed from the ubiquitous iPhone and its clones. Various tweaks mean it's the easiest to use S-Class device so far, and that gorgeous screen is great for watching video, even if it feels a bit weird and letterboxy when browsing the web. What the camera lacks in megapixels it makes up for with its quality lens and can deliver some decent pictures if taken with a little care. Still, the battery life was disappointing and the syncing software really needs an overhaul. If you can live with those shortcomings, then LG's New Chocolate could be worth a taste. ®
More Phone Reviews...

HTC
Touch 2

Palm
Pre

BlackBerry
Curve 8520

Apple
iPhone 3GS

LG New Chocolate BL40 movie phone
LG's most convincing piece of confectionery yet, with terrific media playback and a well-featured 5Mp camera.
COMMENTS
not any close to OLED
"For clarity and sharpness, it ranks along with those flashy new OLED screens we've been treated to recently"
Indeed? I've heard a different story (via http://www.mobile-review.com/review/lg-bl40.shtml -- sorry, still no english version, Google Translate to the rescue maybe?):
While BL40's screen is better than that of LG Arena, it's still very far from AMOLED display of e.g. Samsung HD i8910
Wow
Wow what an amazing screen, you wonder if 4" will be the limit know, i hope so in a way because phones are meant to be pocket sized.
But again i think LG have this style i really like and although it has a massive screen there are plenty of good features and i suppose it all comes in at a reasonable price.
My only concern would be how thin it looks, i prefer a thick more sturdy looking phone.
Anyway good job LG, all you need know is connection to the cloud to stream films or something.
Oh and cheapest, proper online retailers seem to be Play.com and Shop.co.uk
Shop.co.uk - http://www.shop.co.uk/51907/lg-bl40-chocolate-sim-free (nicer Url compared to..)
Play - http://www.play.com/Mobiles/Mobile/-/530/687/-/11626028/LG-BL40-Chocolate-Sim-Free-Unlocked-5-Megapixel-Mobile-Phone/Product.html?searchtype=genre