Belkin recalls fire-risk in-car iPod kit
Ciggie lighter short circuit hazard
Do you own a Belkin TuneBase in-car iPod dock? Did you buy it after 1 April this year? If so, Belkin would very much like to have it back.
It's worried that the thing could catch fire. A washer within the cigarette lighter power adaptor could short out, it said today, causing smoke and, possibly, flames too.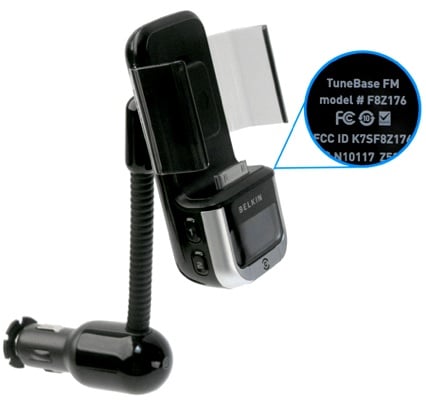 Belkin's TuneBase FM with ClearScan: got one? Check its model number now
Belkin said the risk was limited, that no one was so far been injured by these things, and that the problem was most likely to be experienced if the TuneBase's adaptor was left plugged in for "prolonged periods", for example "when the TuneBase is left plugged in overnight".
Devices purchased before 1 April 2009 are safe, Belkin said. Affected model numbers are F8Z441, F8Z442, F8Z176, F8Z441ea, F8Z442ea and F8Z176eaBLK. Look on the device, not its packaging, the company said. These numbers apply to the TuneBase FM with Hands-Free, TuneBase Direct with Hands-Free and TuneBase FM with ClearScan products.
Details of how to obtain a free replacement can be found on Belkin's website, here. ®
COMMENTS
Wonderful
I've got 2 of those - a normal Clearscan one bought from the UK and a hands-free one I bought in the US.
I don't see why everyone hates them, I think they're great.
Thank You!
I've got one of these and will be checking out the website today. I do leave it connected almost all the time, although I don't think there is any power to the socket when the ignition is off.
My experience of the device has been very good (MX5, so not much between the device and the car aerial probably helps). The clearscan never worked, but I have one preset right at the bottom of the available spectrum and one right at the top and both work great in my part of Surrey)
Yes, sound quality isn't mind blowing, but it's good enough and having the 3.5mm jack for a cassette adaptor will be handy if I do ever visit somewhere with more tightly packed airwaves!
Belkin iSpoo kit
The moral of the story is that if you would have resisted the temptation to get one of those mp3 players from Crapple and bought a real PMP, you wouldn't have needed to score one of these recalled units.
Mine is the one with the Cowon D2 in the pocket.
POS...
I'm with you on this Winky... It pulled the lighter fitting right out in my car too.
The readout that shows you the FM freq to tune to died on mine a few weeks ago. I'll get my replacement, stick it on ebay and put that towards getting a wired base into my car radio.
Seems to be a matched pair
The smoking iPod gets a matching car mounted igniter.
That should send car insurance premiums rocketing!