To test read and write performance, we connected the ix4-200d to a Gigabit switch (jumbo frames disabled) and moved a 901MB file to and from an Intel Q9450 quad core PC with 4GB Ram running Windows Vista SP2. A 1GB Ramdisk was installed to remove any potential bottlenecks on the PC side of things.
Performance Tests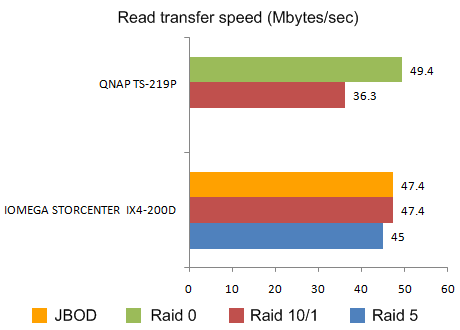 Read speeds are excellent for day-to-day usage
Longer bars are better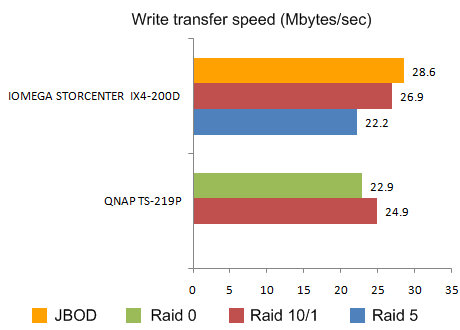 Write performance is average, probably due to the complexity of handling four drives
Longer bars are better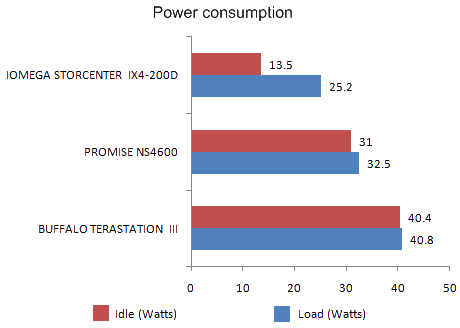 Sublime load and idle power consumption – alas, no scheduled on/off mode
Shorter bars are better
Read speeds are excellent, performing as well as you can expect from any top-end Nas, while write speeds are slower than the fastest 2-drive Nas boxes, but average for a four drive Nas. We also tested the same PC with an RTM copy of Windows 7 installed, which produced slightly faster Raid 5 and JBOD speeds, but the same Raid 10 speeds.
COMMENTS
Too risky to use.
Old PII tower, RAID/network cards as needed, a handful of HDDs and FreeNAS. Although a few pounds less to buy and more hours work to set up initially, being able to fix the damned thing when it breaks is worth (often literally) thousands.
"Power consumption is superb"
And the power consumption (in watts) would be what exactly, I don't remember where "superb" fits in the standard units, how many libraries of congress is that?
It's great to know it thrashes it's competition, but a real watt figure would be more useful.