BlackBerry Bold 9700 priced, dated for UK
SIM free
The new BlackBerry Bold 9700 is expected to hit the UK on 9 November, online retailer Expansys has revealed.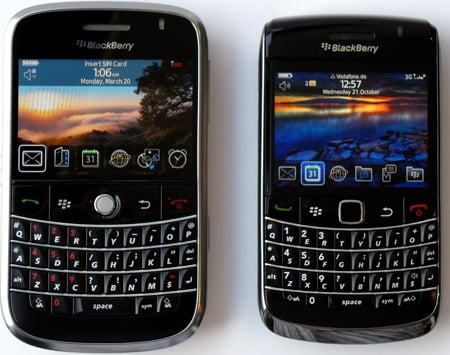 RIM's Bold 9700 (right) and the old Bold 9000
Manufacturer Research in Motion unveiled the Bold 9000's follow-up yesterday, but as far as a UK launch date goes said only that it would be released at some point next month.
Expansys has, however, already begun accepting advance orders for the Bold 9700, which it has priced at a VAT and postage inclusive price of £422 ($696/€465) SIM free.
RIM's Bold 9700 measures 109 x 60 x 14.1mm, has a 2.4in "light-sensing display" and a rear-mounted 3.2Mp camera.
In terms of connectivity, the handset supports 802.11b/g Wi-Fi, HSDPA 3G and Bluetooth. The 9700 can also access BlackBerry App World, RIM's answer to Apple's iTunes App Store. ®
COMMENTS
I don't get the Blackberry thing
I have a 9000 Bold as a company phone. It sucks. I hate the thing. I really don't get what all the fuss is about with Blackberrys. My Treo 680 personal phone is far more usable and versatile (wifi excepted) and I prefer it by far.
As the 9700 is a point upgrade I think I'll pass on this one thanks!