Unibody MacBook unzipped
IFixit disassembles Apple's latest laptop
Apple's new unibody white MacBook was only officially unveiled a few hours ago, but US repair-and-parts shop iFixit has already taken the machine to bits.
Can't see the video? Download Flash Player from Adobe.com
One of the all-new MacBook's most notable features is its MacBook Pro-esque unibody polycarbonate enclosure, which – according to iFixit, allowed Apple to update the MacBook's aesthetics with "contoured edges that fit right in with the rest of the unibody line-up".
IFixit's teardown also revealed that Apple has removed FireWire support and the IR remote port from the unibody MacBook, while also replacing the Mini-DVI with a Mini DisplayPort and the former two audio jacks with a single audio in/out port.
Apple's latest MacBook – which carries the new model number "A1342" – now boasts an impressive seven-hour battery life, iFixit said. The machine's battery life brings it in-line with the run-times of the 13in and 15in MacBook Pros.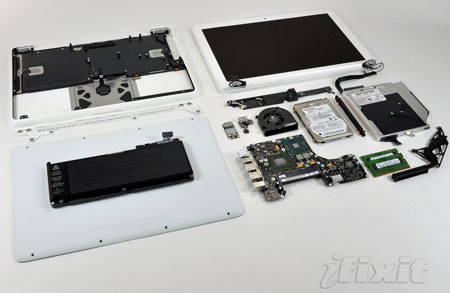 Apple's new unibody MacBook, taken apart by iFixit
The unibody MacBook's battery – which has been upped by 5W/h to 60W/h - is held in place by "both tri-wing and Philips screws", which – according to iFixit – could be an indication from Apple that it doesn't want buyers removing the machine's battery.
IFixit also discovered that the new battery is lighter than the previous MacBook's battery, which goes some way to explaining why the new machine weighs in at 2131g – 136g lighter than before.
Unlike the earlier plastic MacBook, AirPort and Bluetooth both share the same board – iFixit said. The logic board and heat sink also come out as a single part, again taking lead from the unibody MacBook Pro's construction – iFixit added.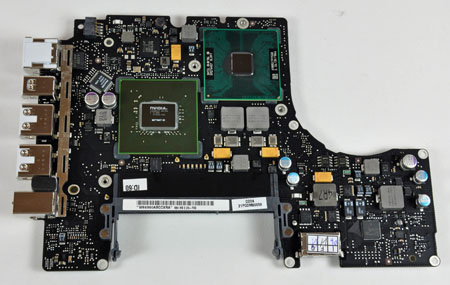 The new MacBook shown sports an NVidia 9400M GPU and Intel Core 2 Duo 2.26GHz CPU
Some of the unibody MacBook's smaller changes include, iFixit said, the lack of rubber feet on the machine's bottom plate and a 50g reduction in the weight of the display assembly - compared to the previous plastic MacBook.
In all iFixit found that the new unibody MacBook is "quite a nice machine to disassemble", but more information about the firm's teardown is available online now. ®
Sponsored: Minds Mastering Machines - Call for papers now open