Freecom Hard Drive XS
The fetishist's favourite?
We tried Turbo USB out using CrystalDiskMark and saw small gains of 6.4 per cent and 13.8 per cent on sequential read and write speeds, respectively. 512KB random read and write speeds were up by similar percentages, though 4KB random read and writes showed no improvement. Not quite 40 per cent, and only of benefit if you're copying large amounts of data. Copying a 1GB file to the drive, for example, will take about six seconds less time with Turbo USB enabled, though the more you copy, the more you save.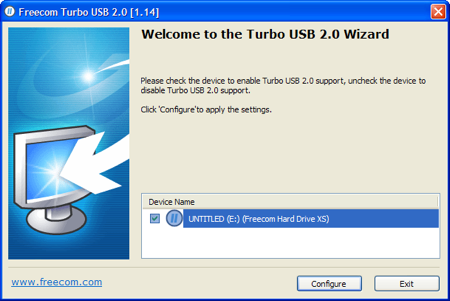 Turbo Mode will boost data-transfer speeds under Windows
There's a downside: switching Turbo mode on (or off again) will unmount not only the Freecom but also any other USB mass storage devices you have connected, we found.
The XS' small (ish) size and all-encompassing rubber skin means there's no point having a fan inside, and Freecom hasn't done so. It certainly makes for a quiet drive, but it's not significantly more so than other recent 3.5in drives we've tried.
We tested the 500GB version of the XS, but Freecom also offers 1TB and 1.5TB versions. Freecom wants £75 for the cheapest of three, which is only a fiver or so above the average price of a 500GB 3.5in external hard drive with USB 2.0 only. We're sure you'll find it for less if you shop around.
Verdict
The XS is a decent enough 3.5in external drive. The rubbery skin is all for show - we wouldn't treat it as a ruggedised product and neither should you - but it's quiet and a reasonable performer. It doesn't come at a bad price. And Windows users in particular will appreciate the speed boost from Turbo USB mode. ®
More External HDD Reviews...

LaCie
Starck

LG
XD4

Samsung
Story
Station

Iomega
eGo

Freecom Hard Drive XS
Reasonably priced and quiet, the XS is a nice drive, and for Windows users Turbo Mode speeds up file transfers. But its rubbery casing is just for show.
Price:
£75 (500GB), £100 (1TB), £125 (1.5TB) RRP