Freecom Hard Drive XS
The fetishist's favourite?
Back to the casing, and while we're sure the tactile coating provides some resistance to knocks and bumps, we're not convinced buyers need to take into account its claimed vibration damping effect. Maybe it does, but how often does your desk shake away like a washing machine on a fast spin cycle?

The mini USB port is more deeply inset that you might think
The XS may indeed be the world's smallest 3.5in external hard drive, but if size, or rather lack of it, matters, then you'll be wanting a 2.5in mobile drive in any case. Even large 2.5in HDDs, like the LaCie Stark are thinner, shorter and narrower than the 182 x 114 x 31mm XS, and don't need a separate power supply.
When it comes to performance, the XS doesn't really make up for its larger dimensions. In both our real-world file-transfer tests - a 2GB file and a 1GB folder containing 100 10MB files, all copied from a MacBook Air - and CrystalDiskMark 2.2 Windows benchmarks, there's not much to choose between the XS and the LaCie.
The Freecom did come in slightly ahead of 3.5in drives we tested earlier in the year, with better average write speeds than both the Samsung Story and the LG XD4.
File Transfer Tests
2GB File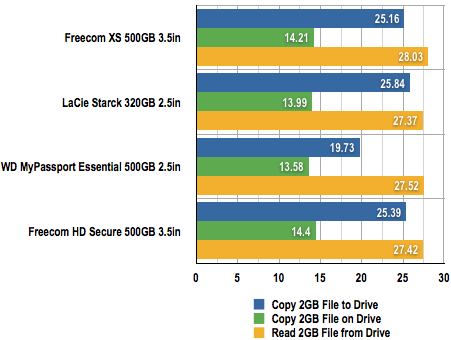 File Transfer Tests
1GB Folder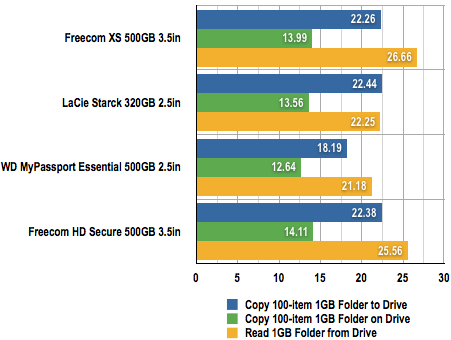 File-transfer speeds in Megabytes per Second (MB/s)
Longer bars are better