Freecom Hard Drive XS
The fetishist's favourite?
Review Freecom appears to be taking a leap out of LaCie's book. Once known for cheap but plain looking storage products, Freecom has been bitten by the design bug.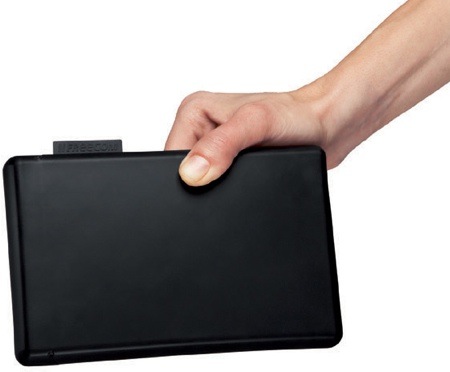 Freecom's XS: do hard drives really need clothing-style labels?
Take the XS, claimed by its maker to be the world's smallest external 3.5in hard drive. This boy is clad entirely in skintight black rubber with gaps only to expose the power socket, a mini USB port and a sticker that says how capacious the drive is.
And you know those small labels on Levi's jeans, the ones sewn into the seams that tell you who ran up your trousers, should you have forgotten? Yes, the XS has one of those.
The matte-black rubbery coating isn't totally sealed. The far end from the ports is moulded like a lid, suggesting you can flip it up and slide out the drive squeezed within. Not so. It's actually glued down, and while you could pull it up in order to swap out the HDD, you'll almost certainly tear the rubber, which, though thick around the sides of the drive is thin where it covers the front and back.
This thickness at the edge undoubtedly gives the XS some protection if it's dropped. But it also causes problems. For one thing, the mini USB port is set a further millimetre and a half back from the edge of the casing. As a result, the cable we used didn't always make a good connection. We suffered from a few instances where the drive would dismount of its own accord.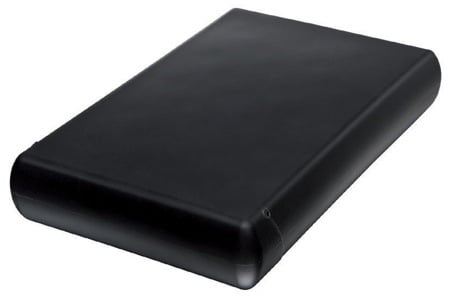 Rubbery casing for Skin 2 appeal
We've never been convinced that the mini USB connector is a good idea for hard drives - there always seems to be too much room for the plug to rotate within the socket. Few HDDs equipped with this kind of connector hold the cable snuggly.
Sponsored: Minds Mastering Machines - Call for papers now open