Samsung Tocco Lite budget touchscreen phone
Too Lite a touch?
The touchscreen user interface is generally straightforward to negotiate. The standby screen has three buttons, pulling up the numberpad, phonebook or menu. The main menu grid is conventional stuff, a tap taking you into sub-menus, mostly with lists of options – like on a regular phone. It should mostly be intuitive for anyone who hasn't used a touchscreen phone before with haptic feedback affirming each prod.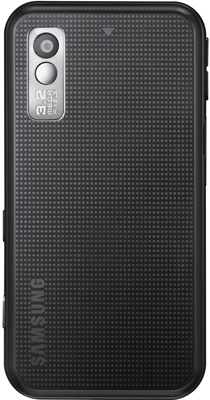 Camera pics can be toyed with using the touchscreen drawing app
One button option at the foot of the main menu screen takes you into a Photo Contacts carousel of most-used numbers, for quick dialling or messaging. If photos are assigned, these appear next to the name. A quick swipe and tap can be used to browse through and select contacts by image.
Sub-menu lists can be scrolled by finger dragging, and some, such as phonebook contacts, can be searched by pressing a search panel and tapping in letters using a virtual keypad. In the menus there's usually enough room for fingers to manoeuvre comfortably onscreen. Occasionally, you may find your dawdling digits selecting rather than scrolling mid swipe, but it usually does what's required without frustration.
Text messaging is reasonably good for a touchscreen phone, with the numberpad suitably spacious for fingers to avoid mistakes, and a clear key layout. There's also a virtual Qwerty keyboard option when you tilt the phone sideways, which is also relatively roomy and fairly accurate to use, plus two serviceable handwriting recognition alternatives. Conventional keypad users are likely to find the touch method slower and not as effortless – in particular, for altering text, and for adding recipients from the phonebook.
The Tocco Lite has around 106MB of internal storage, and it can take Micro SD memory cards up to 16GB capacity. It can be sync'ed with Windows Media Player 11 on a PC, using a USB cable, or tracks can be dragged over in mass storage mode. Users can download Samsung PC Studio software if they want to use this to manage tracks instead. Bluetooth transfer is another option.

Alas, no 3.5mm headphone jack socket
The music player software, handles audio files adequately, identifying new tracks loaded onto the phone or slipped in on a memory card, and listing them under standard category headings. The audio interface is simple to use and looks presentable, like previous Toccos, though it's no iPod or Walkman. You can tap to control, alter sound effects settings and drag timelines with your finger.
Sponsored: Minds Mastering Machines - Call for papers now open