Philips GoGear Muse
A good all-rounder to ponder on?
With its MSC/MTP connection switch, the Muse can be easily hooked up to either Linux or Mac machines, while playlists can be set up on-board or synchronized from the likes of Windows Media Player. The Muse also automatically creates a Most Played playlist. We experienced no problems with DRM-protected BBC iPlayer downloads, which loaded and played without a hitch.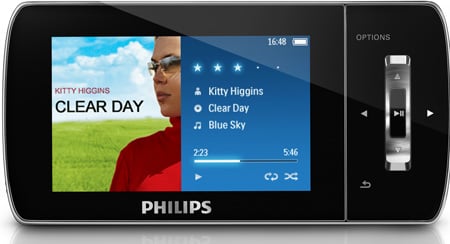 Fixed storage capacities to mull over, but great format support
Philips claims the Muse's 750mAh battery is good for 30 hours of audio playback and 6 of video. We found these numbers to be commendably accurate, managing 28 hours 40 and 5 hours 25 respectively during our test. As we have come to expect from Philips the Muse is pretty aggressively priced with the entry-level 16GB device costing £150 and the 32GB device coming in at only £30 more. That makes the latter the model of choice for us.
Verdict
There is a lot to like about the Muse. Format support is excellent, as is the player's ability to handle video above the screens native resolution. The bundled noise cancelling earphones will hold obvious appeal to anyone who regularly uses their music player on a tube train or plane. However, some may see the absence of storage expansion as a drawback, but we reckon that is countered by the generous capacity/price combination. ®
More Media Player Reviews...

Apple
iPod Nano 5G

Cowon
D2+ DAB

Samsung YP-Q2
v.
Sony E-series

Apple
iPod Touch 3G

Philips GoGear Muse
Don't let the slightly conservative design detract from a very capable device that offers decent value for money.
Price:
16GB: £149, 32GB: £179 RRP