Philips GoGear Muse
A good all-rounder to ponder on?
We're not sure what Philips has done to FullSound to turn it into v2.0 but whatever it is its slightly over egged the pudding by putting just a little bit too much brightness back into the music for our taste and making everything sound rather too forward. On the plus side the definition and clarity that FullSound brings out is very impressive.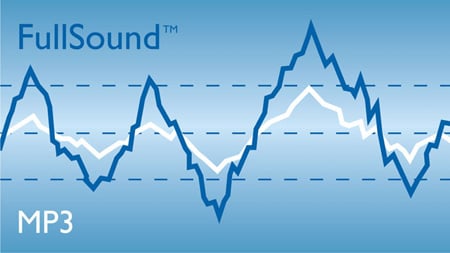 If you're unsure what FullSound does, perhaps this graph will help – or perhaps not
Switch FullSound off and the Muse produces a smooth, balanced and composed sound that, to our ears, sounds more natural. Yet, what really separates the Muse from the herd are its bundled active noise cancelling headphones, which generate an audio signal to cancel out ambient background noise.
Put the Muse in an environment with a lot of low frequency background hum and those earphones come into their own. We had occasion to try the Muse on an airliner and an underground train and, in both circumstances, the amount of background clutter elimination was pretty impressive and definitely made for a more enjoyable listening experience.
The degree to which the sound cancellation works can be altered to suit your surroundings without any overt impact of the quality of playback. If, for any reason, you don't want to use the system, you can simply switch it off or use a pair of regular earphones.
Of course, the Muse will only remove low frequency noises. Listen to Tristan and Isolde on the Central Line and you are still going to be left wondering why Wagner put the short aria "Mind The Gap" in it quite so often.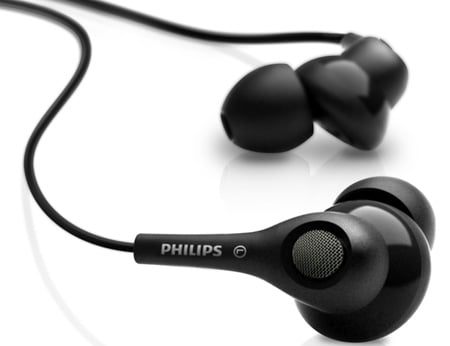 Noise-cancelling earphones as standard
The Philips earphones produce a more than decent sound and are pretty comfortable and you can live with them without major compromise. In fact, their only real failing is the way the connecting cables hang forward when worn. This means the cables tend to flit in and out of the wearer's peripheral vision. One word of caution - the 3.5mm earphones jack has a small lug on it that needs to be lined up with the housing in the player, so don't try to just ram it in any old way.