Philips GoGear Muse
A good all-rounder to ponder on?
The Muse also features an FM radio, which lacks RDS but has plenty of pre-sets and offers the facility to record off-air, a voice recorder and a text reader. All recordings are stored as MP3 files. Navigation around all these functions is very straightforward, with the main menu housing seven icons that take you to all your relevant media, plus two more to access the folder view and now-playing/last-played.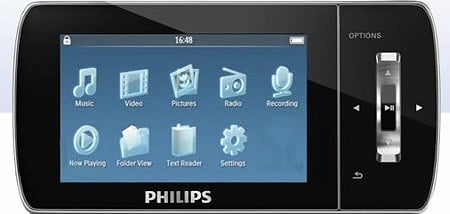 Various menu options are clearly laid out
Philips has made good use of the screen size when it comes to browsing through media. For instance, scroll down the artist list and thumbnails of all the relevant albums appear in a small column to the right. Press play and a large sleeve image appears with all the relevant media and device data displayed alongside. None of this is rocket science, but it does make the Muse a pleasure to use.
The Muse proved impressively capable of handling video files with a higher resolution than that of its 400 x 240, 262k colour screen. According to Philips, the Muse can handle Xvid and Divx files up to 720 x 480 and all other formats up to 640 x 480. Our tests confirmed this with files at or below those resolutions playing crisply and cleanly.
The video scan facility is fast and smooth and doesn't require you to keep the relevant button held down. You can set it to fast-forward or rewind at either 4, 8 or 16 times normal speed and let it run to the desired point before tapping play to resume.
Though there is no option the set bookmarks the Muse will remember at what point in a video file you switched off and will resume when the same file is re-selected. The Muse also rendered all the videos we tried at the correct aspect ratio which was just as well as there isn't a manual override. In fact the only slight disappointment was an inability to handle SupRip subtitle files.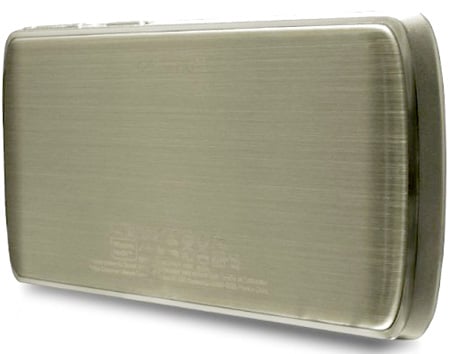 Appearing like a slim mobile, the Muse features a robust casing
Sound modification is limited to Philips' FullSound – actually FullSound2 in this case - system which can be set to either 'on' or 'off'. Switch it off and you also have access to ten pre-set and one user-definable EQ settings.