Fast USB 2.0 Flash Drives
We test vendors' top-speed offerings
Corsair Flash Voyager GT 128GB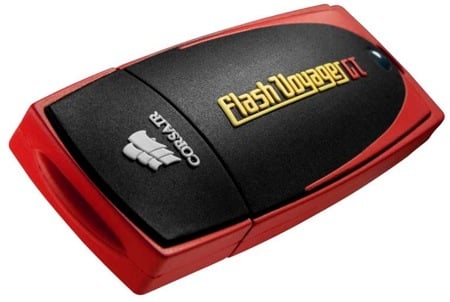 Corsair is rightfully proud of its Voyager GT 128 - it's a very fast Flash drive with a capacity that leaves all the others in the shade. That said, it's not your everyday USB Flash drive. Corsair is pitching the product at punters who want the rugged qualities of Flash but also need the capacity of a small external hard drive - hence that whopping 128GB capacity. This isn't a drive you're going to buy for sending your holiday snaps to your mum.
Quite apart from anything else, it's more than double the size of a typical Flash drive.
As such, it's not entirely an appropriate inclusion in this round-up, but we wanted to try it out because of the claims Corsair has made about its speed. And in this review, speed is the name of the game.
In our tests, the 128 was consistently within the top four products, but it was top-scoring product in all the write tests. Only Lexar's JumpDrive Lightning came close.
But here's the problem: the 128 costs £349 - though you can get it for £100 less if you look around. Still, even £349 is £2.72 per gigabyte. The Lexar comes in at £12.50 per gigabyte. That puts the value ball well and truly in Corsair's court. Even Kingston's low-cost offering is £3.13 a gig.
It's horses for courses. If speed matters and physical resilience is paramount - this thing will take punishment no portable HDD can - and if you want a drive that offers a storage capacity to match a small hard drive, look no further than the GT 128.
Rating 85%
Price £349 Click here for the best online price
More Info Corsair's Flash Voyager GT 128 page
Sponsored: Minds Mastering Machines - Call for papers now open