Fast USB 2.0 Flash Drives
We test vendors' top-speed offerings
Kingston DataTraveler 410 8GB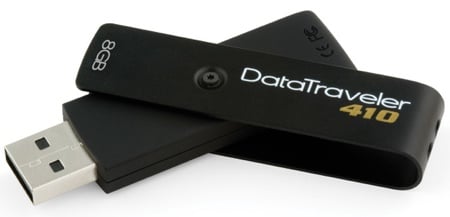 Kingston's latest USB Flash drive proved something of a disappointment. While we liked its matte black paint job and its slim, light metal casing, the drive's performance proved relatively poor. The 410 came in last place when we measured read speeds and wasn't much better when it came to writing.
There's no arguing with the 410's low price, which is a steal if you're not too concerned with file-transfer speeds - though the PNY Attaché Optima costs much the same and is faster. The drive also comes bundled with SecureTraveler, an app that lets you partition some or all of the drive into a password-protected private area.
And it's a good-looking drive. It's protected by a metal cover that pivots around the centre of the drive to expose or shield the USB connector and which forms a strong anchor for a lanyard if you plan to use one.
Rating 60%
Price £25 Click here for the best online price
More Info Kingston's DataTraveler 410 page
Patriot Xporter XT Boost 32GB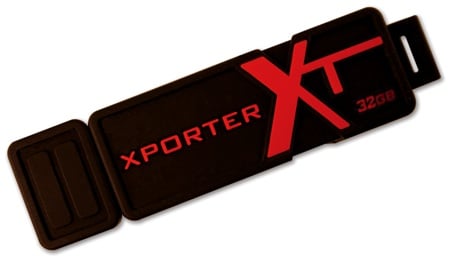 Patriot slaps a big "Ultra-high 200x Read Speed" label on the Xporter XT Boost's packaging and that, plus the drive's name, led us to hope we had a speed demon on our hands. It proved to provide a reasonably read speed in our tests, but it proved the slowest of the lot when it came to writing data to the drive.
Like the Corsair offerings, Patriot's drive comes in a smart rubbery casing with a moulded lanyard attachment and equally rubbery connector cover. But where the Corsair feels solid, this one had a small but squeezable gap between casing and drive internals. That's not a problem as such, but it is indicative of lesser build quality. But we like the way the cap fits snugly only the lanyard connector for safe-keeping.
It's pricey, too, though a good shop around means you'll be able to get it for a lot less than £90. And if the slow write performance disappoints, Patriot's offer of a lifetime warranty certainly doesn't.
Rating 60%
Price £90 Click here for the best online price
More Info Patriot's Xporter XT Boost page
Sponsored: Minds Mastering Machines - Call for papers now open