Toshiba welcomes Windows 7
Unveils Satellite duo with MS OS and Tosh UI
Toshiba clearly doesn't think Windows 7 alone is good enough for its customers, so the firm's installed its own application suite onto its latest Satellite laptop duo.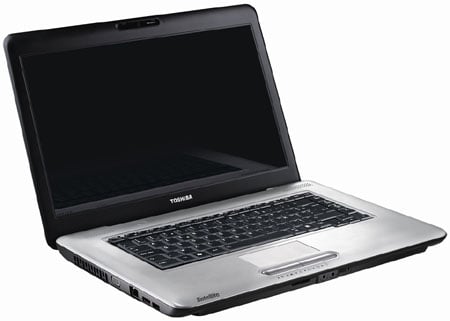 Toshiba's L450: has the smallest screen of the two, yet near-identical innards
In addition to Microsoft's upcoming OS, the 15.6in L450 and 17.3in L555 both feature Toshiba's LifeSpace software, which the firm claimed helps keep your desktop clutter-free.
LifeSpace apparently achieves this by acting like your personal assistant; organising personal appointments, reminders and making it easier – presumably more so than on Windows 7, at least – to keep track of important dates and documents.
The software's "ReelTime" feature also "accelerates file searching" by automatically adding a shortcut to the timeline of recently used files – which can list up to 5000 items visually, Toshiba added.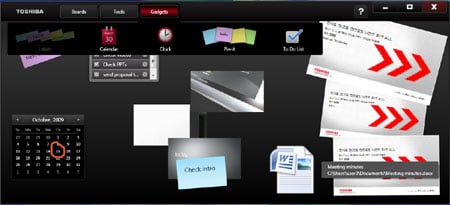 LifeSpace software helps keep your desktop clutter-free, apparently
As for the laptops themselves, the L555 features an Intel 2.13GHz Core 2 Duo processor, a 4GB memory and ATI Mobility Radeon HD4650 GPU.
The L450 can be fitted with your choice of an Intel 1.8GHz Celeron T3000 or up to 2.2GHz AMD processor. Like the L555, the L450 also has a 4GB memory, but its graphics processor can be either an Intel GMA or ATI Radeon.
Both laptops have a 500GB HDD, DVD SuperMulti drive and one HDMI port, Toshiba said, in addition to a four-in-one media card reader and three USB 2.0 ports.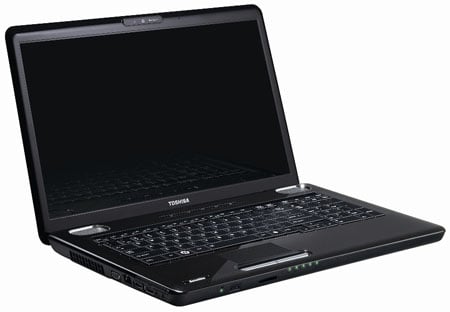 The L555 has a whopping 17.5in screen
Wireless web access is possible thanks to 802.11 n support, which should come in handy for holding videoconferences using the integrated webcam.
Toshiba's L450 and L555 will both be available in the UK later this month, with the L450 set to start at £329 ($537/€360) and the L555 at £699 ($1141/€765). ®
COMMENTS
RE: Garbage
By providing the demos of things, the companies who provide them provide mild funding. It's minimal but it reduces the sale price of the computers. Otherwise the venders would throw on something like AVG/Avast instead of McAfee/Norton because then they can advertise lifetime virus protection. Instead it's better for them to take the money and throw on a couple months of McAfee/Norton instead.
Garbage
Yeah the first comment's always such a negative on the reg... pessimistic bunch aren't we!??
But literally the first thing I do with a new laptop, my own, family or friends is wipe it and install from scratch and install the drivers manually.
I'm so fed up of pre-installed rubbish registry scanners, system updaters, trial versions of MS office featuring "innovative ribbon interface" and Norton "using the internet for idiots" that its easier just to slipstream the SATA drivers myself and install from scratch.
When will a company learn that the best way is the simple way... a complete plain OS install and a driver disc that just that, a disc full of drivers for that model. Not all laptop models in a range. And no I don't want Internet Explorer powered by Samsung in the title bar of my internet windows