And, while we wish we could say something good, or at least interesting, about the 3Mp camera, the fact is our test images were variously underexposed, handled high contrast scenes badly and produced lots of JPEG artefacts. It's a standard mobile phone camera with no video recording.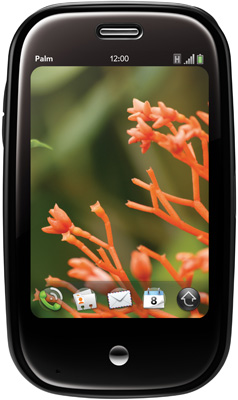 Images look good on-screen, but the ones taken with the camera are none too special
The media player is better than most and easy to use and thankfully the headphones connect with 3.5mm jack and do the job. The call quality was absolutely fine and reception was too, with no dropped call issues or ropey Internet connections, but maybe living in London helps.
Battery life was about as good as the iPhone, but nowhere near the bar set by Blackberry's finest. With it set to receive push email, calendar, contacts from Gmail, along with regular Google Maps and YouTube usage on the bus, it managed around a day and a half. Not bad really.
So you're after a smartphone, you've got money to burn and an obvious decision to make: this or the iPhone. No other touchscreen smartphone is even in the running. The Pre has some obvious advantages. It's a bit smaller than the iPhone and 'Synergy' works well, which could prove useful if you're more familiar with Facebook than the concept of Gmail or an Exchange server. But weigh it against the iPhone and it's hard to recommend.
The keyboard is horrible and the rest of the hardware design, while initially desirable, just isn't up to snuff. The screen is smaller than the iPhone's and things like web browsing or watching YouTube videos are less enjoyable.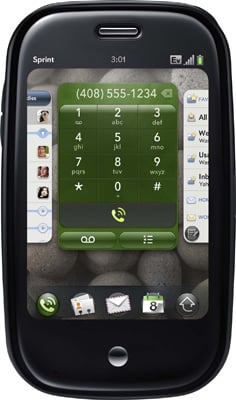 And you can make calls on it too
We're hopeful, of course. WebOS is a work of genius that should appear on as many phones as possible, as soon as possible. It's responsive, extremely fast and offers a huge number of productivity tools. Having your Facebook contacts rolled into your everyday contacts list is incredibly useful. The ability to multitask is brilliantly implemented and genuinely useful, besides providing a valuable point of difference over Apple iPhone.
COMMENTS
obvious decision ?
The obvious decision isn't to get this or an iPhone, it's to wait a few more weeks till El Reg. review the Nokia N900...
PROPREPRI
I had a play with a Pre in an O2 shop at the weekend. I would really like one, but it did feel a bit cheap and plasticky.
Synergy
It is interesting that the author is such a fan of the Synergy system. The Pre looks a great product and perhaps a genuine competitor to the iPhone. However, rather than a selling-point I find Synergy to be a genuine deal-breaker. Can I be the only phone user who actually wants to compartmentalise their contacts? I simply don't want my Facebook 'friends', some of whom are, frankly, not true friends to be rolled into my contacts list. The same goes, to some extent, for IM, Skype etc.
I am impressed by the multitasking which doesn't appear to drain the battery excessively, but I am of the belief that Apple may include this in future iPhones which will sport faster processors and improved battery technology.
Clearly there are issues with hardware design and build quality, but these bugs will be ironed-out in due course.
For now I think I'll stick with my iPhone.
Light the blue touch paper and retire to a safe distance
I normally never return to a flame but I forgot something important. Copy & paste. WTF? How can a 'smart' phone neglect that essential feature for so long?
Apple did something genius with the iPhone but it was in neither the hardware nor software, it was in marketing. It's almost a miracle they got millions of feature phone users to leave their smaller, lighter, prettier, cheaper and above all higher quality devices to be locked into long-term contracts for shorter battery life, crippled functionality, draconian app vetting and dropped calls. They somehow made hefting a bland slab of non-battery-changeable plastic look cool. And simultaneously made the ipod dock standard in cars and homes! All that without so much as a 3.5mm audio jack.
On a side note I do believe Apple have got it right with the 3GS. Finally it's worth is approaching it's monetary value but what a shame, as the plebeians have accepted it en masse it's very popularity causes the iPhone to become uncool.
Oh God Not This Again
First, Anonymous Coward (22:10)
"MMS I believe was left out on purpose. The only people that I know of using MMS regularly are the "Well my Windows Mobile/Nokia does…) crowd that try and belittle the iPhone. I'd not used it before owning an iPhone, and sure as hell didn't miss it after buying it! You see, the iPhone has a technology called "electronic mail". Marvellous really."
Yes, my last few phones (multiple vendors & platforms) have had it too. They've also had MMS. Which is great when I need to send a pic to the contractor out on site somewhere whose phone choice I can't dictate, then I could use whichever method is best suited to convey the information. Now that's marvellous. Tell me, before your phone got MMS how would you have done that? Drive several hundred miles with a sketch? Carrier pigeon perhaps?
Second, Mr. Joe Ragosta:
"It's funny that the anit-Apple crowd accuses Apple of being a cult and Mac users to be mindless fanatics -- yet it is the anti-Apple crowd who seems to base their diatribes on irrational concepts."
No mate, look at the comments and you'll find it's all sides on this one. Why? No idea, reminds me of chimps throwing shit to be honest.
Clam.