The shiny black plastic has a weight to it that makes the Pre feel expensive. The back is curved and, when the phone is slid open, it presents a satisfying shape to the hand that you're unlikely to drop. Compared to the best efforts of, say, Samsung or HTC, the Pre is beautifully designed.

Cutting edge design? But not in the way Palm intended
Until you open it, that is. The first thing you'll notice is the lip at the very bottom of the handset beneath the keyboard. It's sharp enough to cut things, and although you're unlikely to do yourself much accidental mischief, such a sharp blade is very much at odds with an otherwise smooth piece of design. The sliding mechanism on our review sample also seemed a little loose for a brand-new phone.
Once or twice snapping the Pre shut caused it to power off. The second problem is the keyboard. There are no onscreen keyboards on WebOS – the screen would likely be too small for one anyway – so the four-row Qwerty keyboard is all you get, and unfortunately it's a stinker.
If you've used the Palm Treo the keyboard will be familiar, and it's true that it's easy enough to work up a fair head of steam after some practice. But to us the keys felt stiff and the rubbery finish is unpleasant. The top row of keys is too close to the bottom edge of the top half of the sliding mechanism and you need to contort your hands to type. It compares poorly to the Nokia E71 and very badly to the BlackBerry Bold.
Then there's the question of accuracy. Apple's message to iPhone newbies if they make a mistake halfway through a word is to keep typing and trust the phone to correct it and, on the whole, it's very effective. The Pre, although inherently slightly more accurate because of the physical keyboard, doesn't offer anything like so clever a solution.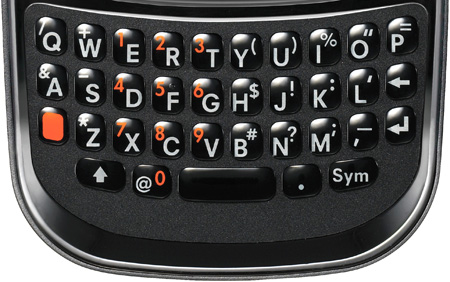 Using the keyboard certainly takes some getting used to
It will catch and auto-correct normal spelling mistakes, popping in apostrophes and the like if you forget, but if you type "pixza" it won't guess that you meant "pizza". Typing long messages – particularly emails – is exhausting. The uncomfortable keyboard, coupled with the need for unstinting accuracy, takes a lot of joy out of using the Pre.
COMMENTS
obvious decision ?
The obvious decision isn't to get this or an iPhone, it's to wait a few more weeks till El Reg. review the Nokia N900...
PROPREPRI
I had a play with a Pre in an O2 shop at the weekend. I would really like one, but it did feel a bit cheap and plasticky.
Synergy
It is interesting that the author is such a fan of the Synergy system. The Pre looks a great product and perhaps a genuine competitor to the iPhone. However, rather than a selling-point I find Synergy to be a genuine deal-breaker. Can I be the only phone user who actually wants to compartmentalise their contacts? I simply don't want my Facebook 'friends', some of whom are, frankly, not true friends to be rolled into my contacts list. The same goes, to some extent, for IM, Skype etc.
I am impressed by the multitasking which doesn't appear to drain the battery excessively, but I am of the belief that Apple may include this in future iPhones which will sport faster processors and improved battery technology.
Clearly there are issues with hardware design and build quality, but these bugs will be ironed-out in due course.
For now I think I'll stick with my iPhone.
Light the blue touch paper and retire to a safe distance
I normally never return to a flame but I forgot something important. Copy & paste. WTF? How can a 'smart' phone neglect that essential feature for so long?
Apple did something genius with the iPhone but it was in neither the hardware nor software, it was in marketing. It's almost a miracle they got millions of feature phone users to leave their smaller, lighter, prettier, cheaper and above all higher quality devices to be locked into long-term contracts for shorter battery life, crippled functionality, draconian app vetting and dropped calls. They somehow made hefting a bland slab of non-battery-changeable plastic look cool. And simultaneously made the ipod dock standard in cars and homes! All that without so much as a 3.5mm audio jack.
On a side note I do believe Apple have got it right with the 3GS. Finally it's worth is approaching it's monetary value but what a shame, as the plebeians have accepted it en masse it's very popularity causes the iPhone to become uncool.
Oh God Not This Again
First, Anonymous Coward (22:10)
"MMS I believe was left out on purpose. The only people that I know of using MMS regularly are the "Well my Windows Mobile/Nokia does…) crowd that try and belittle the iPhone. I'd not used it before owning an iPhone, and sure as hell didn't miss it after buying it! You see, the iPhone has a technology called "electronic mail". Marvellous really."
Yes, my last few phones (multiple vendors & platforms) have had it too. They've also had MMS. Which is great when I need to send a pic to the contractor out on site somewhere whose phone choice I can't dictate, then I could use whichever method is best suited to convey the information. Now that's marvellous. Tell me, before your phone got MMS how would you have done that? Drive several hundred miles with a sketch? Carrier pigeon perhaps?
Second, Mr. Joe Ragosta:
"It's funny that the anit-Apple crowd accuses Apple of being a cult and Mac users to be mindless fanatics -- yet it is the anti-Apple crowd who seems to base their diatribes on irrational concepts."
No mate, look at the comments and you'll find it's all sides on this one. Why? No idea, reminds me of chimps throwing shit to be honest.
Clam.