Overall though, it works well – if you have the same contact in Facebook and Google Contacts it will roll them both into one entry, making looking up and contacting people easy. It also streams instant messaging into SMS messaging – so if someone contacts you by IM you can reply by text or vice versa.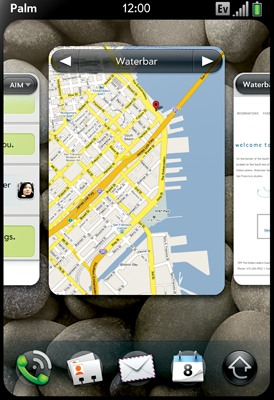 Multitasking support delivers a more versatile user experience
Not being able to multitask on the iPhone is why you can't listen to music on Spotify and browse Google Maps, for instance. WebOS feels like it's been built with multitasking in mind the whole time. Every application runs on its own Activity Card, and the button beneath the screen is the Pre's equivalent of Alt-Tab; zooming out from your current application and allowing you to swipe sideways to get to different applications. Closing an application is satisfying – just flip it off the top of the screen with a finger.
It works superbly on the Pre. In our tests, we ran multiple applications, including Google Earth, the Pre's photo viewer, email client and YouTube and didn't experience performance issues. Switching between applications is smooth, and being able to switch between the calendar and Google Maps, for instance, makes finding your way to elusive meetings easier.
There are other neat navigational touches. The space immediately below the screen is touch-sensitive as well: swiping to the left and right work as back and forward commands respectively – this works in most applications, not just the browser.
Browsing the Internet on the Pre is a simple pleasure. A double tap on the screen zooms in to the width of a column, and, like the iPhone, pinching in and out works too. There are plenty of data connections – 3G is the headline act, with EDGE a useful backup for when you're out in the sticks and 802.11b/g wireless filling in for home duties. The only annoyance with the web browser is the apparent lack of a custom '.com' button, which would save a bit of time typing in addresses.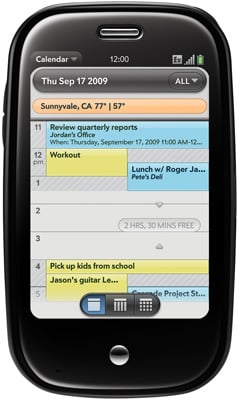 Google and Facebook details can be downloaded to the Pre
The rest of the internal hardware is straightforward. A GPS chip allows you to use location-based services, and there's 8GB of internal memory for music and so forth. It's a respectable amount of space for video and so on, although it doesn't challenge the 16 and 32GB iPhones. Yet there's no memory expansion in the form of a micro-SD card slot.
COMMENTS
obvious decision ?
The obvious decision isn't to get this or an iPhone, it's to wait a few more weeks till El Reg. review the Nokia N900...
PROPREPRI
I had a play with a Pre in an O2 shop at the weekend. I would really like one, but it did feel a bit cheap and plasticky.
Synergy
It is interesting that the author is such a fan of the Synergy system. The Pre looks a great product and perhaps a genuine competitor to the iPhone. However, rather than a selling-point I find Synergy to be a genuine deal-breaker. Can I be the only phone user who actually wants to compartmentalise their contacts? I simply don't want my Facebook 'friends', some of whom are, frankly, not true friends to be rolled into my contacts list. The same goes, to some extent, for IM, Skype etc.
I am impressed by the multitasking which doesn't appear to drain the battery excessively, but I am of the belief that Apple may include this in future iPhones which will sport faster processors and improved battery technology.
Clearly there are issues with hardware design and build quality, but these bugs will be ironed-out in due course.
For now I think I'll stick with my iPhone.
Light the blue touch paper and retire to a safe distance
I normally never return to a flame but I forgot something important. Copy & paste. WTF? How can a 'smart' phone neglect that essential feature for so long?
Apple did something genius with the iPhone but it was in neither the hardware nor software, it was in marketing. It's almost a miracle they got millions of feature phone users to leave their smaller, lighter, prettier, cheaper and above all higher quality devices to be locked into long-term contracts for shorter battery life, crippled functionality, draconian app vetting and dropped calls. They somehow made hefting a bland slab of non-battery-changeable plastic look cool. And simultaneously made the ipod dock standard in cars and homes! All that without so much as a 3.5mm audio jack.
On a side note I do believe Apple have got it right with the 3GS. Finally it's worth is approaching it's monetary value but what a shame, as the plebeians have accepted it en masse it's very popularity causes the iPhone to become uncool.
Oh God Not This Again
First, Anonymous Coward (22:10)
"MMS I believe was left out on purpose. The only people that I know of using MMS regularly are the "Well my Windows Mobile/Nokia does…) crowd that try and belittle the iPhone. I'd not used it before owning an iPhone, and sure as hell didn't miss it after buying it! You see, the iPhone has a technology called "electronic mail". Marvellous really."
Yes, my last few phones (multiple vendors & platforms) have had it too. They've also had MMS. Which is great when I need to send a pic to the contractor out on site somewhere whose phone choice I can't dictate, then I could use whichever method is best suited to convey the information. Now that's marvellous. Tell me, before your phone got MMS how would you have done that? Drive several hundred miles with a sketch? Carrier pigeon perhaps?
Second, Mr. Joe Ragosta:
"It's funny that the anit-Apple crowd accuses Apple of being a cult and Mac users to be mindless fanatics -- yet it is the anti-Apple crowd who seems to base their diatribes on irrational concepts."
No mate, look at the comments and you'll find it's all sides on this one. Why? No idea, reminds me of chimps throwing shit to be honest.
Clam.