Disney kicks 'Ho White' out of bed
Finds fruity booze ad campaign 'anything but sweet'
Disney has reportedly, and unsurprisingly, taken exception to an Oz booze campaign which features "Ho White" puffing on what we assume is a post-coital ciggy in a bed full of dwarves.
The offending pic, created by ad agency The Foundry to promote Jamieson's Raspberry Ale, carries the caption "Anything but sweet":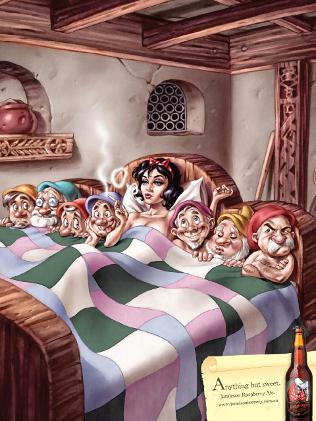 The Foundry admitted to Sydney's Daily Telegraph it'd had "a little bit of contact" with Disney, and the fact that the campaign's official website - anythingbutsweet.com - is now no more suggests a bit of legal sabre-rattling.
The UK's Daily Telegraph rather brilliantly describes it as "unlikely" that Disney, "which runs the family-friendly Disney theme parks and is known for its cartoon feature films aimed at children, would agree to Snow White's image being used to sell beer". ®
Sponsored: RAID: End of an era?