Intel and AMD tussle over antitrust case evidence
Dueling file motions seek sanction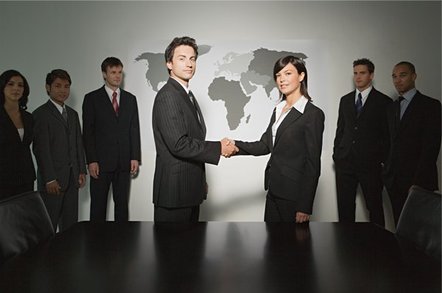 Intel and AMD crossed sabers in US District court on Wednesday with dueling motions seeking sanctions against one another. Both their calls for courtly relief relate to the other's supposedly abominable email-saving strategies for the antitrust case filed by AMD four years ago.
Intel to AMD: I know you are, but what am I?
Chipzilla swung first with a motion in Delaware's district court claiming AMD's retention policies aren't nearly so to notch as the company has claimed.
Back in 2007, Intel itself was forced to admit what it calls "lapses and errors in document retention" that resulted in an untold score of possibly relevant documents and emails for the case to be irrevocably destroyed. (AMD prefers the turn of phrase "aggressive auto-delete system" to describe its rival's former policy). But now Intel claims it has become a born-again data preservationist and fancies to have undertaken what it describes in Wednesday's motion as "what is likely the most extensive and expensive document remediation effort ever undertaken."
AMD, on the other hand, has maintained to the court that its document retention program has been "exemplary," Intel said. Yet because Intel reckons it understands from its own cock-ups that "exemplary" isn't easy, it's skeptical of the claim. The company asserts it has sought discovery of AMD's retention program, "which AMD resisted at every turn."
"It is now clear that AMD's exemplary preservation program suffered from myriad problems," Intel wrote in the filing. "These problems had to be dragged out of AMD, usually only after a Court order. At the end of this long and expensive process, it turns out that AMD's efforts were far from exemplary — rather, they were flawed and incomplete and resulted in massive data loss."
Intel said it would "rather focus on the merits of the case," but alas can't ignore AMD's supposedly serious retention failures and alleged efforts to conceal them from the Court.
"The gist of this is quite simple," Intel spokesman Chuck Mulloy told El Reg. "We voluntarily told the court in 2007 of our problems and AMD, almost immediately, jumped all over us and pointed out how irresponsible we were and how responsible they were. Well, it turns out it wasn't so great after all. And throughout this whole process since then, they have tried to hide the fact that it's not an ideal program from us and the court."
Mulloy said is a span of time somewhere between November 2004 and March of 2005 when AMD was not retaining and producing documents when they were supposed to be.
The company asked the court to sanction AMD for these claimed failures and to compel AMD to remediate its document production with "responsive, unique, non-privileged documents" within 60 days of the order. It also wants AMD to take reasonable steps to provide Intel and the Court with a written summary of its preservation process within 15 days of the summary.
AMD to Intel: I'm rubber, and you're glue...
AMD, in return, dismissed Intel's accusation as having "no merit" and filed a separate motion on Wednesday regarding the rival company's alleged past and present failure to preserve evidence.
The filing asserts Intel has "severely and irreparably" harmed AMD's ability to present its case — adding Intel could have easily avoided its "evidence preservation fiasco" had it exercised a "modicum of diligence" in implementing and complying with an effective document preservation program.
"At a company where paper trails are strongly discouraged, Intel imposed a 'move-it-or-lose-it' document preservation regime where any document not manually saved was permanently expunged," AMD's filing claims.
The company also dismissed Intel's attempts to fix its data retention policies, calling it a "heralded, highly vaunted, but ultimately unsuccessful, attempt at remediation."
It also has something to say about Intel's accusations:
"Finally, deploying a favorite strategy of wrongdoers that 'the best defense is a good offense,' Intel besmirches AMD's preservation program as no better than its own. This counter offensive goes nowhere," the filing claims.
"In sum, Intel's feckless attempts at preservation have left AMD without the benefit of at least hundreds of thousands and probably over a million relevant documents with which to prosecute its case," it goes on to say. "How many exactly were permanently lost, AMD will never know."
AMD asks the judge order that the jury be told that Intel permanently destroyed documents and that the jury may presume the documents would have been favorable to AMD's antitrust claim.
AMD further requests the court order Intel to pay attorneys' fees and costs associated with investigating and prosecuting this particular motion.
"We are confident that the court will affirm our position on Intel's failure to preserve evidence, and see Intel's defensive motion as a meritless distraction tactic," an AMD spokesman told El Reg in an emailed statement.
A copy of Intel's latest motion can be found here (PDF), and AMD's motion here. ®
Sponsored: Minds Mastering Machines - Call for papers now open