Beeb's Carla Bruni coverage hits rock bottom
RSS feed delights schoolboys worldwide
Those of you who may have inadvertantly stumbled into Bootnotes looking for world-class coverage of Google's Android are advised to leave immediately, because what we have here is a classic example of when RSS feeds go bad.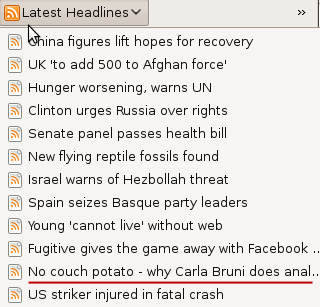 Yes indeed, we're obliged today to reader Jonathon Mithe for demonstrating just how Carla Bruni keeps in trim, and feeding our appetite for schoolboy humour.
The idea of Sarko making merry with the fragrant Bruni's tradesmans' entrance is not an appealing one, but doubtless entirely in keeping with her image as a thoughroughly modern woman.
Our lawyers have, though, asked us to point out that any suggestion that Le Prez has taken his missus up the Oxo Tower is purely down to the BBC and Firefox, and that enraged members of the French conservative right are accordingly advised to contact them direct. ®
Sponsored: RAID: End of an era?