SanDisk flashes its extra bits
4-bit MLC transition is underway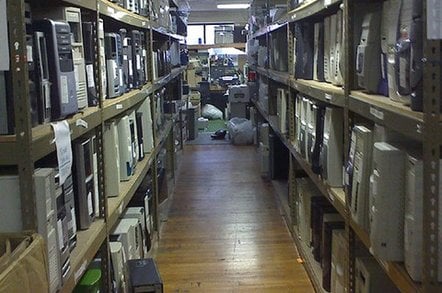 SanDisk is shipping 4-bit Secure Digital flash cards with flash chips storing 8GB of data.
Multi-level cell (MLC) flash technology stores four bits of data per cell. MLC is regarded as key technology for increasing NAND flash capacity and effectively lowering its cost per GB stored, making it more affordable. Alternatively suppliers can keep prices higher and earn more profit.
Current MLC flash products are mostly at the 2-bit MLC level with 3-bit MLC on offer as well, not least from SanDisk and its partner, Toshiba. Samsung also has a 3-bit flash program. It tried to buy SanDisk recently, with part of the motivation being a wish to avoid paying them 4-bit MLC license fees.
Enterprise flash drive supplier STEC is introducing an MLC version of its ZeusIOPS SLC flash drive. The SLC version is used by EMC, Fujitsu, IBM, HP and others to add solid state drive (SSD) stooge to their drive arrays. STEC buys in flash chips from Samsung.
A disadvantage of MLC flash is that its I/O speeds are slower than single-level cell (SLC) flash and its write endurance is less. The necessary error detection and correction logic is also more complicated. This means that enterprise-class flash storage uses mostly SLC technology and is relying on advances in flash controller technology to adopt MLC.
Consumer flash is less heavily used, and MLC write endurance imitations and speed matter less. SanDisk has several 4-bit MLC patents and it jointly developed the actual flash 4-bit MLC chips with Toshiba. SanDisk concentrates on consumer flash products while Toshiba has said it intends to enter the enterprise flash storage business.
SanDisk is now shipping Secure Digital High Capacity (SDHC) cards with 8GB and 16GB capacities, as well as similar capacity Memory Stick PRO Duo cards. Secure Digital (SD) flash cards with 64GB capacity and more are expected to follow soon. Its pricing, which is pretty much the same as equivalent capacity 2-bit MLC product, suggests that SanDisk is more interested in gaining extra margin from sales than in lowering prices and growing sales volume.
It will move to more advanced production processes next year and be able to get more flash chips from a wafer, lowering its cost further. This 4-bit MLC product introduction is a signal that we may see 4-bit enterprise flash product towards the end of next year or in 2011. ®
Sponsored: Minds Mastering Machines - Call for papers now open