Western Digital WD TV Live
HDD media player revamped with networking
This is doubly a pain because the box doesn't remember you journey through the menus. Visit YouTube, and then go and listen to some music, and you'll find that when you eventually go back to the Video menu, you once again start off on Local Devices. This will irritate anyone who stores everything on a Nas box.

More sober styling this time round
That said, the list of formats the WD TV supports is extensive and here augmented with DivX - XviD has never been a problem - and our test file played just fine. We won't list them here - the More Info link at the end of the review takes you to WD's product page, which enumerates them all. Suffice it to say, all iTunes friendly formats are catered for - except DRM'd files - along with MKV, Ogg and Flac for the open source crowd, and Windows Media for Microsofties.
Connected by composite-video, the WD TV's UI is a mite fuzzy, though video and photo playback was fine. You shouldn't expect staggering quality from composite, but we have seen better - even on the Apple TV, which doesn't officially support it. HDMI and component will be fine.
Connecting the WD TV to a network allows it to check for firmware updates - several were released for the previous edition - and to sniff out aforementioned network shares and servers. It will also operate as a server too, allowing you to view content on, say, a laptop while viewing something else (or the same video) on your TV. It'll happily pick up Windows SMB shares but not AppleShare or FTP - we tried all three.
WD wanted £100 for the first WD TV. The new one is £120, but the increase is probably the result of Sterling's plunge on the exchange markets as anything. Certainly, £20 is well worth paying for the extras the new model brings.
Verdict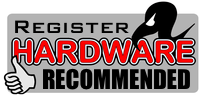 The WD TV grows up. The original was a great way of hooking up a hard drive full of content to your telly, but the Live makes it a fully fledged network media player, allowing you to hide the HDD right out of the way. It's not perfect - the UI is still a tad clunky and inconsistent in places - but it does the job. ®
More Network Media Player Reviews...

LaCie LaCinema
Black MAX

Freecom
MediaPlayer
II

Wyplay
Wyplayer

Netgear
EVA9150
Sponsored: Minds Mastering Machines - Call for papers now open

Western Digital WD TV Live
A nicely-priced, flexible network media player for your HD TV.