Western Digital WD TV Live
HDD media player revamped with networking
The WD TV's menu system isn't at all bad, and a darn sight more attractive than some of the media players to have come out of storage companies, though it's not a smooth nor as smart as the one on the Apple TV, or other gadgets used as media players, such as the Xbox 360 and PS3.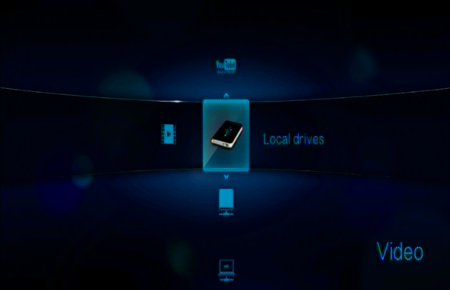 The UI owes more than a little to Sony's XMB
When you highlight a menu entry, there's a half-a-second pause while the WD TV changes the monochrome 'not selected' icon to a different, colour 'selected' one. It's a small pause, sure, but it's very noticeable. The WD TV's progress graphic animates slowly and slightly jerkily, again giving the impression there's not enough CPU horsepower for the UI. There must be, as the unit plays HD video perfectly well, but the effect is nonetheless to make the box feel less consumer electronics smooth than it should be.
It's quirky too. You navigate around the main menu and its sub-options using the remote's four arrow keys, with the left key taking you back a step. But once you're looking at content listings, you used the Back key to return to previous screens. This switch is necessary because the WD TV presents content not as a top-to-bottom list, iPod-style, but as a grid, which necessitates left-to-right movement as well as up and down. You often find yourself wanting to move through the menu system but not doing so because you're pressing the wrong button.
It also makes the UI less attractive than it might be. We put a two-dozen videos on a hard drive and all we got in the menu was a grid of generic disc icons. Fortunately, there are List and Preview options in the Settings that, respectively, drop the picture and show a clip from the video instead. The Music and Photo sections were better, the WD TV ably pulling thumbnails from the pictures and album art from the track files - though oddly not when you sort by Album, Artist or Genre even though is does when you navigate through the drive's directories to a single-album folder.
However, the WD TV does a good job of presenting a unified music, movie or photo collection if you have parts on multiple drives and shares. It will list, say, all your tracks on the one screen irrespective of where they're located.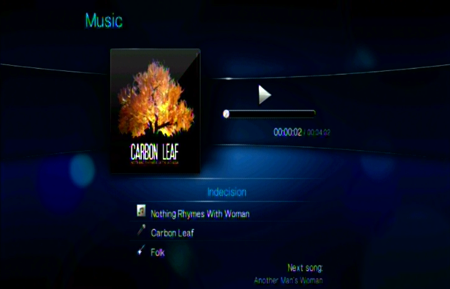 Album art is supported in some views, but not others
Well, almost. WD TV makes a distinction between local storage and remote, so you have to know that the song, film or shot you want is one one or t'other in order to locate it. Pressing Enter on the main menu's Video icon, for example, presents a second list of options: 'Local Drives', 'Media Servers', Network shares' and 'YouTube'. The latter makes sense as a separate item, but should you really have to remember where and how your content is stored in order to access it?
Sponsored: Minds Mastering Machines - Call for papers now open