Toyota Prius fourth-generation e-car
Still king of the hybrid hill?
Apart from the EV driving mode, the Prius can also be set to operate in "Eco" and "Power" modes. In the former setting, aggressive accelerator movements are moderated and the air conditioning is adjusted all in the name of improved fuel economy, while in the latter mode, given throttle inputs result in anything up to 25 per cent more wallop being unleashed.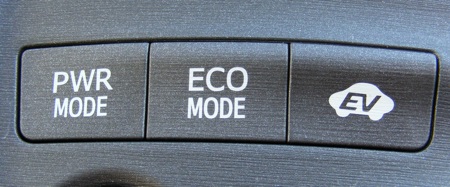 Pick your mode... but EV's probably the only one worth selecting
According to Toyota, the Prius in Power mode will cover the 30-50mph dash 1.7 seconds faster than normal, but we suspect 99 per cent of drivers will just leave the system in Auto when not cruising about in EV mode as frankly neither setting makes a massive amount of difference to economy or performance.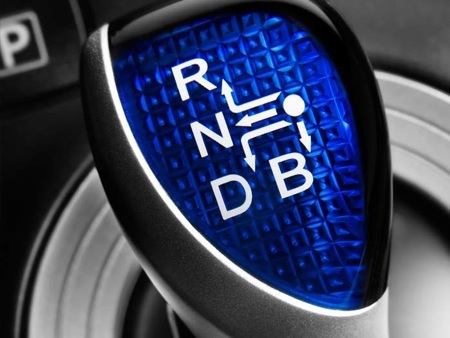 Leave it in Auto
Like the Insight, the Prius uses a CVT transmission which means the 1.8l VVT-i Atkinson cycle engine has to gallop up the rev range before any serious forward motion takes place. It's not the world's most refined four pot when all's said and done, and progress is not a heck of a lot faster or more enjoyable for the enthusiastic driver than in the 1.3l Insight.
This is also has a lot to do with the the fact that, as with the Honda, the Prius' petrol engine produces its maximum 98bhp (73kW) of power and 105lb-ft (142Nm) of torque rather high up the rev range, at 5200 and 4000rpm, respectively.

The dash thankfully avoid eco flim-flammery
On paper, with 98bhp on tap from the petrol engine and a further 80bhp available from the electric motor, we expected the Prius to show the Honda - which only has 88 and 13.8bhp, respectively - a clean pair of heels on the open road. But while the Prius does dispatch the 0-60 dash a good deal more quickly - in 10.4 seconds compared to 12.5 - when it comes to mid-range acceleration, the difference feels marginal.
Sponsored: Minds Mastering Machines - Call for papers now open