Sony HDR-TG7VE
Full HD point and shoot perfection?
Built into the top of the unit is a GPS receiver, which will record your location whenever it's got a clear line of site to the sky. Location data will then be embedded in any video or photos you record, so you can then view your captures on a map, either on the camera or with the bundled Picture Motion Browser (PMB) PC software.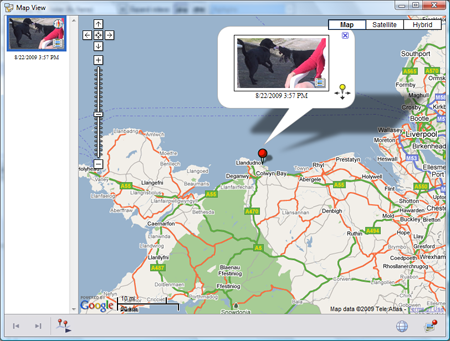 The Picture Motion Browser application reveals the GPS tagged locations
Click for a full-resolution screen grab
The PMB application allows you to easily copy your footage to your PC or archive it to DVD or Blu-ray. When you import footage it will also scan it for faces and smiling people, so you can quickly find shots with people in them where they appear to be having fun. In practice, it can be a little hit and miss, but it's a nice extra.
You can review your footage in PMB and create basic edits, such as trimming shots to remove excess material. Once you've finished cutting your shots down, you can then upload them to video sharing sites, such as YouTube or Dailymotion with just a couple of clicks.
PMB is Windows-only, although you can import footage from the TG7 into iMovie on the Mac. However, this is a lengthy process and you'll end up with QuickTime files that take up around ten times as much space as the original AVCHD files.
The TG7 features on board smile detection, in the form of Sony's own Smile Shutter feature. With this enabled, it will automatically capture a high res photo of anyone it detects smiling in footage you're shooting - at the same time as you're filming. You can vary the sensitivity and tweak whether it should be looking for adults or children smiling.
On-camera connections are limited to a power socket for charging, a custom AV connector for Composite or Component Video out, and a docking station connector. Under the flap on the front you'll find the Memory Stick Duo slot, battery compartment and a switch to disable GPS. The supplied dock provides the same custom AV connector, an HDMI port, power socket and mini USB port. There is also an adaptor in the box that converts the dock connector to mini USB, so you don't need to lug the dock with you everywhere you go.
Sponsored: Minds Mastering Machines - Call for papers now open