Sony HDR-TG7VE
Full HD point and shoot perfection?
HD Footage is captured in AVCHD format at 1080i. At the highest HD FH setting it records at a full HD resolution of 1920 x 1080 pixels while at lower quality settings it only captures at 1440 x 1080 pixels. Standard definition footage is stored as MPEG-2 at a resolution of 720 x 576 pixels.

Equipped with a Zeiss 3.2mm to 32mm, 10x zoom lens
When recording to the internal 16GB memory, at HD FH (16Mbps) quality the camera reports 109 minutes available, at HD HQ (9Mbps) 219 minutes, at HD SP (7Mbps) 276 minutes and at HD LP (5Mbps) 373 minutes. Switching down to standard def you can expect at SD HQ (9Mbps) 226 minutes, at SD SP (6Mbps) 325 minutes and at SD LP (3Mbps) 680 minutes.
When comparing HD HQ footage with HD FH, it's very hard to see the difference. Given that FH footage takes up around twice as much space as HQ, you're probably better sticking to HQ unless you need the absolutely highest quality. LP mode is best avoided and SP mode is adequate, but unless you can't afford additional storage HQ gives better results.
From a full charge you're looking at around an hour and a half's usage before the battery gives up. You can easily change batteries, so you could carry a spare if you need longer between power boosts.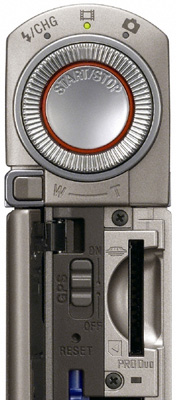 16GB on-board storage is expandable using the Memory Stick Duo slot that also takes Pro cards
In addition to the internal storage, there's also a Memory Stick Duo slot, so you can easily add extra capacity - useful if you're away on holiday and don't have access to a computer to download your footage. With a 16GB card available for around £40-£50 if you shop around online, it's an affordable way to access additional storage.
Sponsored: Minds Mastering Machines - Call for papers now open