Ralph Lauren says sorry for incredible shrinking pelvis
We've learned that we're responsible
Ralph Lauren has apologized for Photoshopping the pelvis of a fashion model down to inhuman proportions.
Yesterday, we told you the tale of a recent Ralph Lauren magazine advert that takes the fashion world's taste for emaciated bodies to new extremes: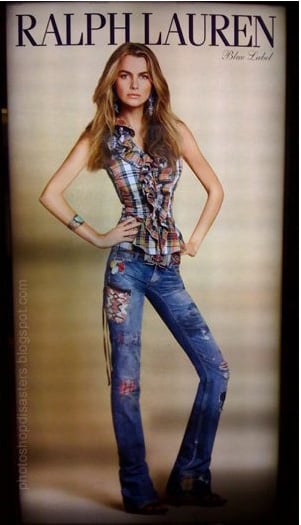 Ralph Lauren Photoshoppery
After its debut, the ad was soon the source of ridicule on sites like PhotoshopDisasters and BoingBoing. "Dude, her head's bigger than her pelvis," BoingBoing said.
At first, Ralph Lauren was anything but apologetic. The fashion house promptly lobbed DMCA takedown notices at the service providers hosting the two sites, insisting they remove the image from their servers.
Never mind that such notices are complete nonsense. BoingBoing and Canadian ISP Priority Colo refused to remove the image, and in the process, the blog couldn't help but mock Ralph Lauren, its marketing arm, and its lawyers.
But at some point, Ralph Lauren had a rethink. Speaking with The Daily Mail, the company has owned up to the shrinking pelvis.
"For over 42 years, we have built a brand based on quality and integrity," reads the company's statement. "After further investigation, we have learned that we are responsible for the poor imaging and retouching that resulted in a very distorted image of a woman's body.
"We have addressed the problem and going forward will take every precaution to ensure that the calibre of our artwork represents our brand appropriately."
No word on whether the fashion house has also learned that it's responsible for its poor grasp of the DMCA. ®
Sponsored: Minds Mastering Machines - Call for papers now open