Sony claims 'lightest notebook' crown
Atom-based super-skinny X series launched
The fight for the right to claim ownership of the world's lightest notebook has been won by Sony, the company claimed today, thanks to its launch of the Vaio X.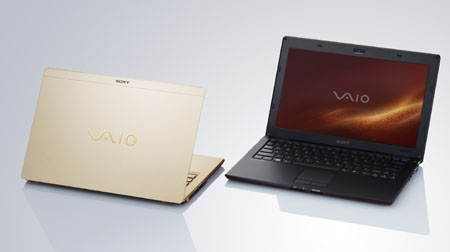 Sony's Vaio X: good lookin', but Atom-based
Weighing in at just 655g, the... ahem... "exquisitely crafted" notebook measures 278 x 185 x 13.9mm and is available in your choice of gold, black or carbon-fibre frame.
And with the designer looks come some designer features, including an aluminium palm rest, multi-digit touchpad and – although we're not sure we believe this last one – a responsive keyboard that supposedly provides an "error-free typing" experience.
Sony has created two X-series models: the VPC-X11S1E/B and VPC-X11Z1E/X. Both feature 11.1in, 1366 x 768 displays, but the X11Z1E/X ships with the faster processor – a 2GHz Intel Atom Z550, compared to the X11S1E/B's 1.86GHz Atom Z540. Both CPUs were designed for handheld net tablets, so don't expect killer laptop performance.
The X11Z1E/X also has a more capacious SSD than its rival – 256GB, compared to 128GB – and is the only version available with that exclusive premium carbon-fibre finish. So exclusive, in fact, that the machine will only be available through Sony's sales website.
Both models feature 2GB of DDR 2 memory and are equipped with the handheld-oriented Intel GMA 500 integrated graphics core, Sony said.
Neither notebook has an integrated optical drive – that's an optional USB-connected extra — but do support 3G speeds of up to 7.2Mb/s and 802.11n Wi-Fi. Bluetooth is also present, Sony added.
An integrated webcam – which also features in Sony's new touchscreen Vaio – can be found on the VPC-X11S1E/B and VPC-X11Z1E/X, as can slots for SDHC memory cards and Sony's own Memory Stick cards.
Running Windows 7 Professional, the pair will hold out for up to eight hours, Sony claimed. Splash out for the "extended X battery" and you'll supposedly get 16 hours' runtime from the X series.
Sony wouldn't say officially how much either model will cost, but company insiders told us recently it would be in the €1500-2000 range. Phew. Whatever they cost, both machines will be available in November. ®
Sponsored: Minds Mastering Machines - Call for papers now open