PC tune-up software: does it really work?
Part Two: Windows Vista
The down sides to Fix-it Utilities 9 are the profiles it offers (making you choose between office, gamer and security… but who doesn't want security) and it took three hours to perform its initial one-click optimiser, mostly due to it running its own hard disk defragger. But, just like in our XP tests, we couldn't detect any performance improvement due to the third party defragmenter.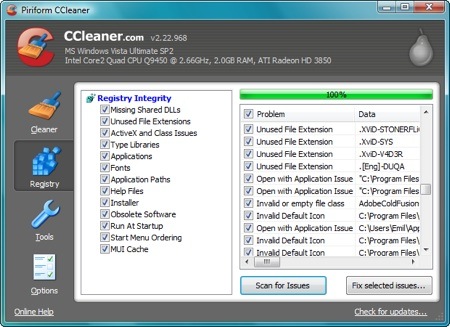 Ccleaner will claim to fix a heap of registry problems and is good for competent users
CCleaner, which is a free download, doesn't have any of the bells and whistles tacked onto commercial tune-up/registry fixing applications. What it does have is a simple interface, easy-to-understand categories and a Startup editor, which is where the biggest performance improvements can be found. The downside with the Startup editor is there are no descriptions, so you need to know exactly what you're doing if you're going to tinker.
TuneUp Utilities 2009, which costs £30, produced some consistently good start-up and Office 2007 results. However, we experienced two Explorer crashes with TuneUp Utilities 2009 in Vista, the only crashes during our entire testing stint. TuneUp denies it was its application that did the damage. Aside from the crashes, TuneUp Utilities 2009's interface is top notch, with clear descriptions and a great start-up manager.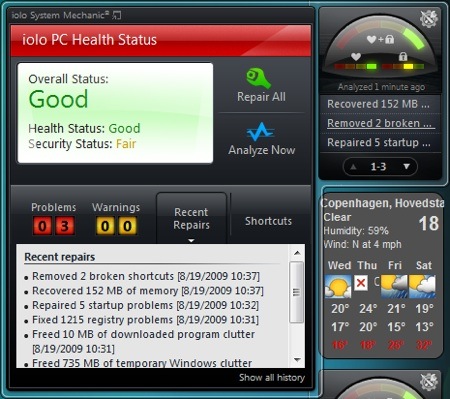 System Mechanic 9's sidebar gadget is a novel little addition
Iolo's System Mechanic 9, which costs $49 (around £29), has the same neat interface the XP version has, but adds a gadget to the sidebar so you can monitor recent repairs and how "healthy" System Mechanic thinks your PC is. Using the one-click solution to optimise and speed up your PC disables Windows Live Messenger, which we re-enabled to make for a more fair test. Boot-up times were a long way behind the rest of the field and, if Iolo's explanation of no internet equals poor boot-up times, then Iolo needs to make a change to System Mechanic 9, because it's a flaw the other applications don't have.
Sponsored: Minds Mastering Machines - Call for papers now open