PC tune-up software: does it really work?
Part Two: Windows Vista
All these programs like to meddle with the registry and claim to compact it, but in reality there are very few changes made, apart from Fix-it Utilities 9 which actually bloated our registry a little. PC Tools Desktop Maestro 3.0 claimed a registry space saving of eight per cent, but we couldn't detect it.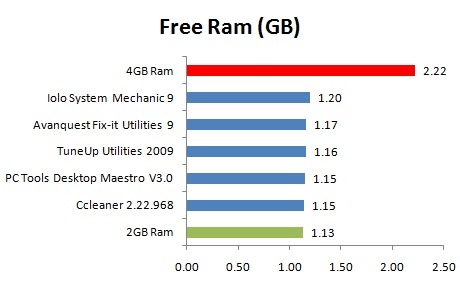 There is more Ram available across the board
Our results do not show the ability of these applications to fix problems and make performance improvements beyond their automatic "button-solutions". Nor do they show instances where performance dived after tweaking the button-solutions.
PC Tools' Desktop Maestro 3.0, which costs £39.95, was one such app that caused system performance to dive when we selected the wrong setting. The results above where made using the "Recommended Services" setting, but after choosing the "Minimal Services" setting - as recommended by PC Tools for best performance - our Vista machine suddenly looked terrifically ugly.
It also made Microsoft Office 2007 perform a solid 12 per cent slower, to which PC Tools responded: "Desktop Maestro is not specifically designed to improve Microsoft Office software, rather than the Windows Operating System that you are using."
Desktop Maestro needs a makeover and some new tricks, and it's getting one later this month, apparently.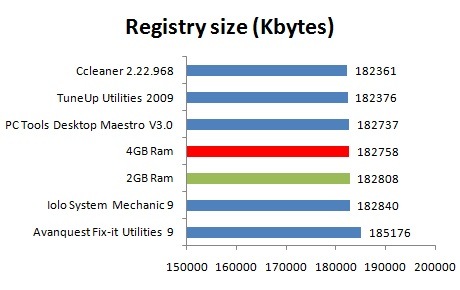 Registry meddling is a big part of what these tools offer
Avanquest's Fix-it Utilities 9, which costs £29.35, has got a lot to like. It provided a small boost to our Office performance, outperforming the 4GB system. It is feature-packed, bundling virus and spyware protection - provided by Vipre - and secure file shredding. Fix-it Utilities was, however, the only application that changed the page file size on our Vista PC. While it made the page file bigger on our low-end XP laptop, it made the page file smaller on our Vista PC, reducing it from 2345MB to 512MB. We're slightly baffled by this decision, unless Avanquest has evidence that typical PCs with 2GB Ram don't use the page file much.
Sponsored: Minds Mastering Machines - Call for papers now open